Altcoin News
Half of the Top Altcoins Jump Against Bitcoin; BTC Jumps Above USD 10K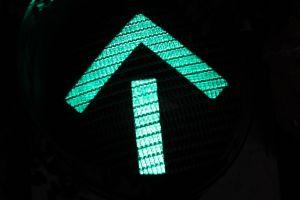 The market is looking better for altcoins as they are trying to regain their positions, while half of the top 100 altcoins advanced against bitcoin in the previous week. However, while traders across the cryptosphere were trying to guess if bitcoin will go lower and if an altcoin season is starting, bitcoin jumped above the USD 10,000 level today.
In the last 24 hours (13:50 UTC), around half of the top 100 coins by market capitalization are in green against bitcoin, while also around half of them went up in the past week. In the past 24 hours, the winner is egretia (+20%), while the distant second is bytecoin (+14%).
Almost all major coins are in green as well against bitcoin. However, as the market is recently very volatile, it might change soon.
Top coins against BTC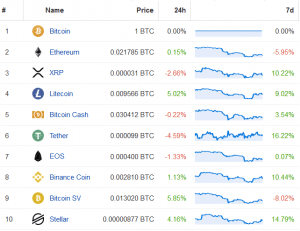 Additionally, since Tuesday, bitcoin dominance, or the percentage of the total market capitalization, has decreased by around 1 percentage point, below 66%.
___________________
___________________
On Tuesday, bitcoin fell below USD 10,000, but at the time of writing it's again above this level.
Top coins against USD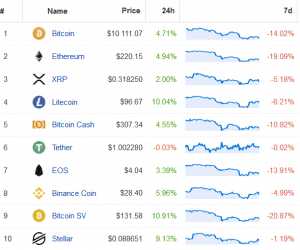 Some in the community see bitcoin drop as just a correction in a bull market, and others are predicting that the price will likely rise from this point on. However, Travis Kling, founder of the crypto hedge fund Ikigai, suggested to observe the development of individual, global macro-events and their influence on bitcoin price.
Mati Greenspan, a senior market analyst at the eToro trading platform, however, points out that there has been an altcoin rally in the past day, wondering if this could be a beginning of an altcoin season, or "just a dead cat bounce". He also thinks that the Libra hearings show that "many in the U.S. government are very open to bitcoin."
We've had a nice bounce off the $9,000 support (blue line) and the upward trajectory we've been tracking (yellow line) is still very much in play.

The hearing yesterday showed us that many in the US government are very open to #bitcoin despite what they may feel about Libra. pic.twitter.com/WxGzXNBEmc

— Mati Greenspan (@MatiGreenspan) July 18, 2019
And, as always, cryptoverse would not be cryptoverse without jokes.
Source: cryptonews.com
View original post