Bitcoin News
Bitcoin Again Looking Bullish as Price Tests USD 50K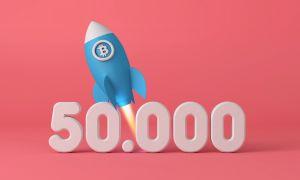 The price of the number one cryptocurrency bitcoin (BTC) once again traded above the key USD 50,000 level today, as technical analysts say the price is in "an interesting spot," and on-chain metrics appear strong.
At the time of writing (11:08 UTC), bitcoin was up by 5% for the past 24 hours. The coin traded at USD 50,007, after having been both above and below the key USD 50,000 level several times during the day.
Today's push higher made it the second time bitcoin has traded above USD 50,000 since May, when prices started falling from the coin's all-time high of over USD 64,000.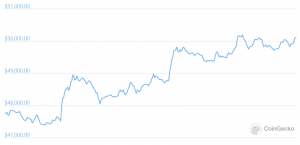 Commenting on the rising bitcoin price, Travis Kling, founder of crypto investment firm Ikigai Asset Management, wrote on Twitter that the bitcoin price now looks interesting after having "covered a tremendous amount of ground" since dipping below USD 30,000 44 days ago.
"It did that thing it does sometimes where it just runs away from people," Kling said, also sharing a chart that shows how the technical picture has improved as the price has punched through several resistance areas, with USD 58,000 being the next likely target if the 50,000 level breaks:
Sharing the same bullish sentiment was also Charlie Morris, founder of the ByteTree data and research platform, who wrote that bitcoin fund flows have now stabilized, after seeing outflows for the better part of the month.
"We've had two consecutive days of inflow, albeit modest," Morris wrote, adding that miners have started selling coins again despite the bullish market, which indicates that the market is "strong enough to take the pressure."
Second, miners inventories have now peaked and they are selling again. This is normally bullish as it implies the m… https://t.co/n087za5r7F
Looking at on-chain fundamentals for bitcoin, popular analyst Willy Woo said yesterday that bitcoin is now in a "region of notable price stability," and that on-chain metrics shows that "investors are in accumulation."
"All the makings of a volatility squeeze. Breaking [USD 50,000] likely a fast track to [USD 60,000]," the bitcoin on-chain analyst added.
On a similar note, Will Clemente, lead insights analyst at mining company Blockware Solutions, opined yesterday that "Bitcoin's on-chain supply dynamics are at levels that previously priced BTC at [USD] 58K."
Interestingly, the march higher for bitcoin has happened at a time when the bitcoin dominance – bitcoin's share of the overall crypto market valuation – has dropped to levels not seen since June. Today, however, the dominance again turned slightly higher above 40%, per Coingecko.
____
Learn more:
– Coin Race: Top Winners/Losers of August; DeFi Leads, Bitcoin Lags
– Bullish Options Data Fuels Speculations on New Bitcoin Rally
– Bitcoin Mining Difficulty Takes Another Large Step Up, As Miners Reposition
– Green Shoots of Recovery Sprout for Bitcoin Miners
Source: cryptonews.com
View original post