Bitcoin News
Unapproved Bitcoin Mining Plant Forced to Close Shop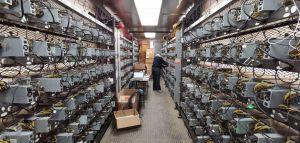 Noise complaints from residents of an affluent estate community in the Canadian province of Alberta lead to a months-long investigation which discovered a Bitcoin (BTC) mining operation that had been set up without approval – and now has to shut down.
Vancouver-based Link Global is the name of the company that established the operation, CBC reported. It has been ordered by Alberta's utility commission to shut down two plants until it presents evidence that they are allowed to operate, that is, until they have proven that they've either obtained permission under Alberta's environmental protection act or confirmation permission is not required.
However, Link Global argued that this would cost locals their jobs, as well as cause the oil and gas infrastructure in which it operates to sit dormant yet again.
The investigation that led to the mining farm discovery started with the complaints by sleepless residents of a small neighborhood situated less than a kilometer away. These people stated that they were not consulted before the facility was set up.
Besides the neighbors, the county or the Alberta Utilities Commission (AUC) weren't notified either – hence the latter couldn't have provided approval, nor make sure the company met relevant conditions, such as only generating power for the company's own use and proving the plant has no adverse effects on people or the environment.
By that time, the plant was operating in full capacity, with the work having been started on it in August 2020. Link Global had set up four 1.25 MW gas generators at the site, per the article, pulling power from a dormant natural gas well owned by Calgary-based company MAGA Energy.
In June this year, the company finally admitted that it didn't notify or consult local stakeholders, stating that it was "unaware of the statutory and regulatory requirements."
Alberta has nearly 200,000 dormant or abandoned oil and gas wells, often because they're no longer economically viable, and despite the environmental concerns raised over Bitcoin mining, Stephen Jenkins, Link Global's CEO, said that the operation can provide an environmental benefit as it's "using underutilized or unused power" and "retooling and retasking existing infrastructure."
The company said that for every 10 MW of power, it can generate about BTC 1.2 a day. But if it can't work out a solution with the AUC, Jenkins said he'll move the operation to another site in Alberta, Saskatchewan, or B.C.
The order to close did come, however, and the company will also have to pay a CAD 50,000-75,000 (USD 39,600-59,500) fine, reduced by up to 50% because Link Global admitted to breaking the rules.
The company plans to submit documentation to prove their plant in Alberta's Kirkwall meets provincial emissions requirements to keep it running.
____
Learn more:
– Watch: Spanish Police Bust a Suspected 111-rig Crypto Mining 'Farm'
– Employee Found Mining Ethereum Beneath Seoul's Premier Opera House
– Russian Miner Has His Video Cards Stolen – By Balcony-Scaling Neighbor
– 8 Crypto Mining Apps Exposed as Fakes – And 120 More are Still in Business
– A Closer Look at the Environmental Impact of Bitcoin Mining
– 'A Code Red for Humanity' and a Reminder for Bitcoin Miners
Source: cryptonews.com
View original post