Cryptocurrency News
Exchange and Spend Crypto as Easily As Cash with HOLD Crypto Exchange and Debit Card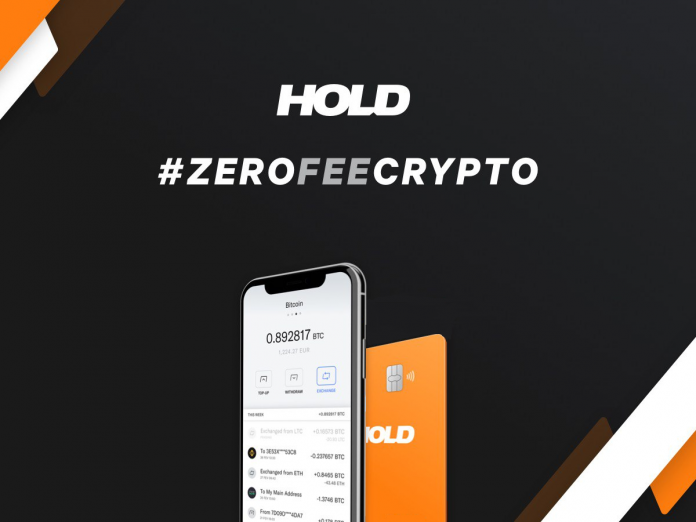 One of the biggest barriers in the adoption of cryptocurrencies by an average person is the tedious method of acquiring crypto and subsequently using them for day to day activities. Jumping through hoops of Know Your Customer (KYC) and Anti Money Laundering (AML) checks only lands the interested person on an exchange that makes it complex to use fiat to acquire crypto. Sometimes, because of the inability to satisfy these requirements, users on some exchanges do not even have a withdrawal in cash option.
HOLDing Crypto Made Easy
HOLD is a crypto exchange that makes it extremely easy for users to not only get their hands on cryptocurrencies with ease using fiat, but also offers exchange services for both crypto and fiat.
HOLD offers a multitude of benefits:
Mobile App

: Available on both Android and iOS, users can simply use their mobile to access HOLD services.

Ease of use across Europe

: The services are available across 36 European countries.

SEPA Support

: Users of Euro cash accounts in banks in SEPA region can simply top up their HOLD wallets with cash.

Best Rates

: One of the best trading rates available in the market.

Zero Fee

: Living the philosophy of #ZeroFeeCrypto, the HOLD platform does away with unnecessary fees that eat into user assets.
The HOLD Visa Debit Card
What good is crypto if you cannot spend it? HOLD believes that cryptocurrencies should be as easy to spend as fiat and, as such, offers a Visa debit card to its users. The services are offered in partnership with Contis, the leading alternative payment system provider. Collaborating with Contis and tapping the Visa network, the HOLD Visa Debit Card can be used for cash-based transactions at over 44,000,000 merchant points globally.
The use of the HOLD Visa Debit Card means that users will not need to cash out their fiat or cryptocurrencies into their bank accounts or other cards to make purchases. Users can directly use the balance in their HOLD wallets or convert cryptos into fiat for use.
Apart from Ireland, Spain and Austria, the HOLD Visa Debit Card will be available throughout the Eurpean Economic Area upon launch.
CTO HOLD, Guilherme Almeida said, 
"We are aiming high to provide our customers with the best app experience in the market allowing them to buy, sell and exchange crypto and spend cash using their HOLD Visa Debit card whenever and wherever they want. We like to call it their 'all-in-one exchange in their pocket!"
Security And Compliance
The HOLD platform has made security and legal compliance of its system a top priority so users can enjoy a seamless and hassle-free experience. HOLD operations are in line with Article 62 of Malta's Financial Services Act and it is working on applying for a VFA Class 3 Licence from the Financial Services Authority of Malta.
From the security side, the HOLD app is custom made and secured with technology from BitGo to secure crypto assets. HOLD also complies with PCI DSS, making sure that card details are safe. The platform uses Onfindo-powered ID verification and Chainalysis blockchain-based AML checks.
With the launch of the HOLD exchange and Visa Debit Card, HOLD will fundamentally change how people will use cryptocurrencies in their daily lives.
For more information on the zero-fee exchange and debit card platform, visit their website: https://hold.io/
Disclosure: This is a sponsored article
Source: nulltx.com
View original post