Cryptocurrency News
iCoin International to Use Emerging Tech to Bring Credibility Back to Diamond Mining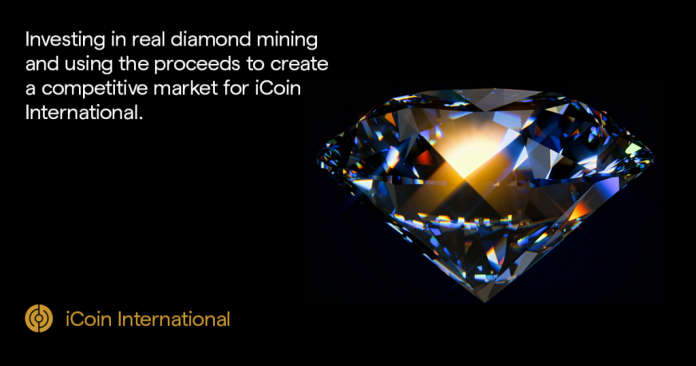 With the emergence of the digital economy in full swing, disruptive technologies like blockchain and artificial intelligence (AI) are being tapped to not only innovate but also to improve upon and upgrade existing operation standards across multiple industries and sectors. 
Hardened Tech
In many instances, these new technologies and solutions present themselves as enterprising opportunities for a new brand or company looking to break the mold. However, every so often, something comes along with a humanitarian edge, and instead of reinventing the wheel, they manage to break a vicious cycle.
One such project is being undertaken by the Millennium Mining Corp who operates iCoin International; the effort from the firm seeks to tokenize the diamond industry in the controversial diamond mining hub of the world, Sierra Leone. Utilizing both blockchain and AI, iCoin will be bringing efficiency, speed and the vital levels of transparency that the precious gem industry needs. 
Diamonds are considered to be universally invaluable and intrinsically beautiful. Not only are they scarce, but for millennia they have been forged deep under the surface of the planet and have become renowned for being one of the hardest naturally occurring materials on the planet. 
With this, there have been many who sought to capitalize on this which has led certain parts of the world down some particularly dark paths, with conflict, war, environmental damage, counterfeiting and corruption left in its wake. However, this does not have to remain the case and iCoin has put together the necessary means to bring about real change. 
Noting the distinct lack of proper monitoring infrastructure and transparency within the diamond mining industry, iCoin is setting out to tokenize the diamond mining industry and implement a real-time monitoring and auditing system with blockchain and AI. According to their press release, this will "create a holistic business environment", through which the diamond industry can thrive, but also create a "new economy out of diamonds."
iCoin Network
The platform presented by iCoin is said to be a trustless network with blockchain and smart contracts that provide automatic and instant transactions that cannot be corrupted or duplicated. Ultimately, blockchain technologies in this instance provide a wholly transparent system, where all financial transactions can be viewed on a distributed ledger and furthermore, each and every diamond extraction will be time-stamped and traceable on the supply chain.
Tapping the Baimbawai Pool in the Sewa River, Sierra Leone, the Millennium Mining Corporation is setting up mining operations in an area with an estimated 1 to 1.5 million cubic meters of diamond-bearing gravel.
The operation will be monetized through ICOIN, the native cryptocurrency of the iCoin platform. These can be purchased through an initial exchange offering (IEO) event through the LATOKEN exchange and after release, will be available as a medium of exchange, trade, or to hold and gain profits on.
With only 600,000,000 ICOIN tokens to be minted, and 10,000,000 being offered for the IEO at 1 USD per token, it is to be expected that these tokens could have a serious return on investment in the long term.
Most importantly, a project of this nature will demonstrate the real-world value of disruptive technologies, all the while having the potential to positively transform an otherwise controversial global industry.
To learn more about iCoin and its attempts to implement emerging tech in the diamond mining industry, visit the website.
iCoin International is the source of this content. Virtual currency is not legal tender, is not backed by the government, and accounts and value balances are not subject to consumer protections. Cryptocurrencies and tokens are extremely volatile. Invest in cryptocurrencies after you own due diligence.
Disclosure: This is a sponsored article
Source: nulltx.com
View original post