Bitcoin News
Senator Admits U.S. Can't Ban Bitcoin, Crypto Market Goes Up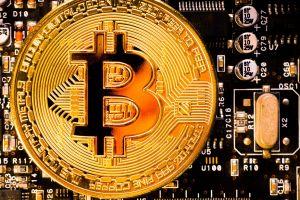 The crypto market corrected higher following a hearing entitled "Examining Regulatory Frameworks for Digital Currencies and Blockchain" at the U.S. Senate Banking, Housing, and Urban Affairs Committee today.
At pixel time (16:33 UTC), bitcoin trades at c. USD 9,697 and is up by 1% in the past 24 hours. Other major coins from the top 10 by market capitalization are also in green, registering up to 3% gains.
Bitcoin price chart: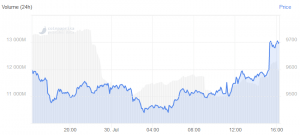 The market went up right after the hearing at the Senate finished. Senators and three witnesses – Jeremy Allaire, CEO of Circle, Rebecca M. Nelson, a specialist in international trade and finance, and Mehrsa Baradaran, a professor of law – among other things were discussing regulatory challenges that cryptocurrency and blockchain might bring. However, no specific statements how the regulation might evolve in the U.S. were made.
And while some of the senators stressed that blockchain can't solve all problems and the public also needs to discuss what challenges this technology might create, others recognized the power of cryptocurrencies.
"If the U.S. were to decide – and I'm not saying we should – we don't want cryptocurrency in the U.S., let's ban it, I'm pretty confident that we couldn't do that because this is a global phenomenon," Senator Michael Crapo, who earlier stressed the need for regulatory clarity and urged to protect integrity of the U.S. financial system, said. (Meanwhile, India is considering a total ban of non-state issued cryptocurrencies.)
He also asked Allaire how cryptocurrencies can become a global phenomenon if it faces different regulatory rules around the world.
Allaire responded that these digital assets exists were Internet exists and added that "digital money will move frictionlessly, everywhere in the world, at the speed of the internet, hopefully with a high level of security and data protection."
_______________________
Watch the latest reports by Block TV.
_______________________
The Circle CEO also stressed that "Congress should adopt national policies that define and establish digital assets as a new asset class.
"Unfortunately, in the United States, the guidance that the SEC [Securities and Exchange Commission] has given is extremely, let's just say, narrow, in terms of what they deem to not be a security," he added.
Meanwhile, Senator Brian Schatz and professor Baradaran voiced their skepticism towards the ability of cryptocurrencies to help the unbanked people.
"I don't doubt the potential for this tech, I just don't think that it's going to actually bank low-income communities, and I don't think you've persuaded anybody here that it's going to do so," Shatz said.
Meanwhile, Baradaran, who praised cryptocurrencies for stressing inefficiencies of the current financial system, said that there are other ways to solve these issues on a public level, without private tech companies.
"Thus far, fintech has only served the population who is already banked and blockchain use is limited to the technically savvy," she said. "<...> "What unbanked customers need are simple and safe places to save their money,and then convenient and inexpensive ways to use it. The most popular product for low-income consumers has been a very simple, and still very expensive, prepaid debit card."
______
Watch the recording of the hearing here:
______
Testimonies can be found here:
_____
Reactions:
Dominant themes from today's US #Senate #Banking hearings, "Exploring Regulatory Frameworks for Digital Currencies… https://t.co/wpdIVN0N5T
The senators are not prepared to ask the correct questions and the people testifying are speaking in vague terms us… https://t.co/AkOiEvM8cp
Senator Schatz: Let's not say that blockchain is going to solve all of societal's ills. So true.
Read more: Hey, Gov't Officials! Do You Still Think You Can Ban Bitcoin?
Source: cryptonews.com
View original post