Bitcoin News
Bitcoin and Altcoins Showing Early Signs Of Recovery
After strong bearish moves, bitcoin price started a short term upside correction above USD 9,350. BTC/USD is currently (08:00 UTC) consolidating near the USD 9,500 level and it might slowly recover above the USD 9,650 and USD 9,720 resistance levels. Similarly, there are a few positive signs emerging for altcoins, including ethereum, ripple, bitcoin cash, litecoin and EOS. ETH/USD is holding the USD 202 support and XRP/USD is likely to climb above the USD 0.312 and USD 0.315 resistance levels.
Total market capitalization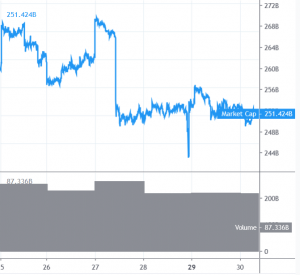 Bitcoin price
In the past few hours, bitcoin price mostly traded in a range above the USD 9,300 and USD 9,350 support levels. BTC/USD is currently trading near USD 9,500, with an immediate resistance near the USD 9,580 and USD 9,600 levels. If there is a successful break above USD 9,600, the price could continue to recover towards the USD 9,720 and USD 9,850 levels.
The main hurdles on the upside are near USD 9,800 and USD 10,000. On the downside, the USD 9,300 are is a solid support, below which the price could start a fresh decline. The next key support is near the USD 9,050 level.
Ethereum price
Ethereum price retested the USD 202 – USD 204 support area recently and is currently moving higher. An immediate resistance is near the USD 210 level, above which ETH/USD could make an attempt to rise further. The next resistances are near USD 215 and USD 222.
On the downside, the main supports are USD 204 and USD 202. If the bulls fail to defend the USD 202 support, there are chances of a heavy losses below USD 200 and USD 195 in the coming sessions.
Bitcoin cash, eos and ripple price
Bitcoin cash price is trading above the key USD 300 support level, with range moves. On the upside, the USD 310 level is an initial resistance, followed by USD 312. The main resistance is near the USD 320 level, above which the price could continue to rise towards USD 320.
EOS is struggling to climb above the USD 4.250 and USD 4.300 resistance levels. If the price continues to face hurdles, there are chances of a downside reaction below the USD 4.050 and USD 4.000 support levels.
Ripple price is holding the USD 0.305 support level and it is currently correcting higher. The key resistance is near USD 0.312, above which the bulls are likely to gain control. The next key resistances are near the USD 0.318 and USD 0.320 levels.
Other altcoins market today
Despite negative and range moves in bitcoin, a few small cap altcoins climbed higher by more than 5%, including LAMB, KCS, CRO, UUU and AOA. On the other hand, JCT, CCCX, ABBC, LINK and RNV declined more than 7%.
To sum up, bitcoin price is consolidating and preparing for the next move either above USD 9,650 or below the USD 9,300 support. The price action suggests, there are chances of a short term recovery towards the USD 9,800 and USD 10,000 levels in the near term.
_____
Find the best price to buy/sell cryptocurrency: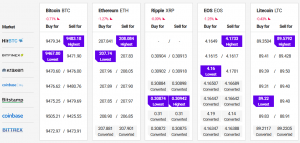 Source: cryptonews.com
View original post