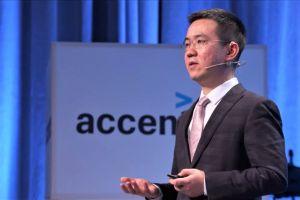 Bitcoin Cash (BCH) rallied today, surpassing USD 290 for an hour, on reports that the prominent supporter of BCH, Jihan Wu is back as the CEO of major crypto mining company Bitmain. (Updated at 08:00 UTC: updates throughout the entire text.)
At pixel time (07:02 UTC), BCH trades at c. USD 288 and is up by 10% in the past 24 hours and by 24% in the past week.
BCH price chart: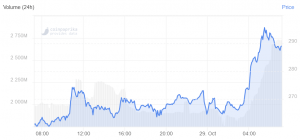 Micree Zhan Ketuan, who started Bitmain with Wu six years ago, no longer holds any position at the Beijing-based company effective immediately, Wu said in an internal memo obtained by Bloomberg News. Moreover, Wu warned employees against taking further instructions from Zhan or attending any meetings he convenes, threatening staff with dismissal or criminal charges, according to the report.
This is also already being discussed on social media.
"Actually, looks more like Micree was forced out. The question is how? Micree is still a majority shareholder of Bitmain Beijing as well a large shareholder of the parent Bitmain holding co. This looks like power play by Jihan & still has yet to play out," Samson Mow, Chief Strategy Officer of Blockstream, Canada-based blockchain company, tweeted.
"I'm leaning towards the theory that the replacement of Micree as legal representative was NOT done with investor/shareholder approval because the change was messy," he added.
Bitmain was not available for immediate comment.
According to various reports, a year ago, Zhan owned a 60% stake in Bitmain, while Wu and another co-founder Yuesheng Ge had c. 30%. However, according to Bloomberg, Wu and Zhan hold 21% and 37% of the company, respectively.
Meanwhile, major Bitmain's rival and the world's second-largest maker of Bitcoin mining machines, Canaan Inc., filed for a U.S. initial public offering. China-based company listed its offering size as USD 400 million in its filing Monday with the U.S. Securities and Exchange Commission, Bloomberg reported. According to earlier reports, Bitmain is considering a U.S. IPO, after its first attempt in Hong Kong failed.
As reported yesterday, people noticed that the blocks on the Bitcoin Cash network are slow and only partially full, and it turned out that an unknown miner controlled 50% of the network hash rate.
Source: cryptonews.com
View original post