Altcoin News
Justin Sun to Reschedule Lunch With Buffett as Tron Price Crashes 55%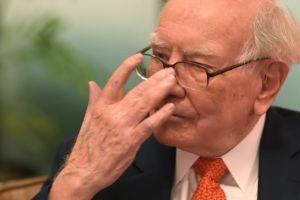 Since the postponement of the seemingly ill-fated lunch between Tron's Justin Sun and Warren Buffett, a crypto-skeptic billionaire, TRX is down 55%. That said, Sun is trying to reschedule the lunch.
The 14th coin by total market capitalization, with USD 882 million, currently (09:48 UTC) trades at USD 0.013. The highest average price recorded by Coinpaprika on July 22, when the lunch was cancelled, was USD 0.029. Hence, between then and now, the price has seen a 55% drop. In comparison, the total crypto market capitalization dropped by 26% in the same period of time (31%, if we exclude bitcoin).
While the price certainly fluctuated over the course of the past year, seeing the low levels of USD 0.011 in November 2018 and the high levels of 0.038 in July 2019, a significant upwards activity can be seen in the last quarter and around the Sun-Buffett lunch, in the June-July period. After this year's highest level in July, the price can be seen steadily dropping, ascending once more after the announcement of the second guest and just a couple of days before the postponement, only to plummet 14% right after it.
It continued its steady drop up until the recent rally, but as many other coins this week's crashes affected its price. We see two larger drops in the past week: September 24th and 26th. It has further dropped 1% in the past 24 hours.
TRX price chart: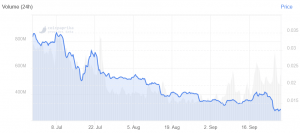 Whether scheduling a new date for the lunch between the two major figures in their respective industries would have an influence on Tron's price again may be seen if Sun's successful in rescheduling it. In his recent livestream, giving an answer to many questions about this particular event, the Tron founder confirmed that the lunch will be rescheduled "very soon," and that he's had discussions with Buffett's team. After the date has been set, he says, "the cast [the guest list] will be updated."
"I think it's gonna happen and I'm excited about it," Sun says, but the details "I think we can release in Q4, so just stay tuned."
As a reminder, this is what had happened: Sun and Buffett, as well as a few high-profile guests selected by Sun, were supposed to have the much-talked-about lunch back in July, for which Sun bid USD 4.56 million at a charity auction. However, Sun cancelled it, allegedly due to kidney stones. However, later, he issued a lengthy, since-deleted apology, in which he said that he'd been "immature" in his "excessive" promotion and over-marketing of the lunch, and for which people believed to be a classic move meant to praise the Chinese leaders and get in the Communist Party's good graces. Soon after, Sun was spotted in a party where he said that he's feeling better.
Meanwhile, Sun is seeking to work with the U.S. 2020 Democratic presidential candidate, Andrew Yang on Yang's Universal Basic Income (UBI) proposal, aka the Freedom Dividend, by which every American above the age of 18 would receive a universal basic income of USD 1,000/month or USD 12,000 a year. In the same livestream in which he confirmed the efforts to reschedule the Buffett lunch, Sun said that he and the presidential hopeful follow each other on Twitter, and should there be any discussion about "the collaboration" with Yang, he'll post an update.
Earlier in September, Sun announced that he'll pledge an UBI of USD 1,000/month to 100 people in 2020, while also promoting the lunch.
Yang's initiative to UBI $1k to 10 ppl per mth for 1 yr, I'll pledge UBI $1k to 100 ppl per mth in 2020! I'll pick 1 to attend lunch w/ me & @WarrenBuffett 2020! I'll let Yang assist me in picking the lucky 100! Join us! #YANG2020 @AndrewYang https://t.co/YQFnXwXtuf

— Justin Sun (@justinsuntron) September 13, 2019
Source: cryptonews.com
View original post