Cryptocurrency News
Crypto Market Update: Bitcoin Down $2,000 on the Week, Fundamentals Pointing Upwards
We saw a week of action throughout the entire crypto market. Bitcoin's price plunged, painting the entire market red. Of course, altcoins also plummeted against the USD but remained relatively stable against Bitcoin. The whole market seems to be under a lot of stress, at least according to the Fear & Greed Index: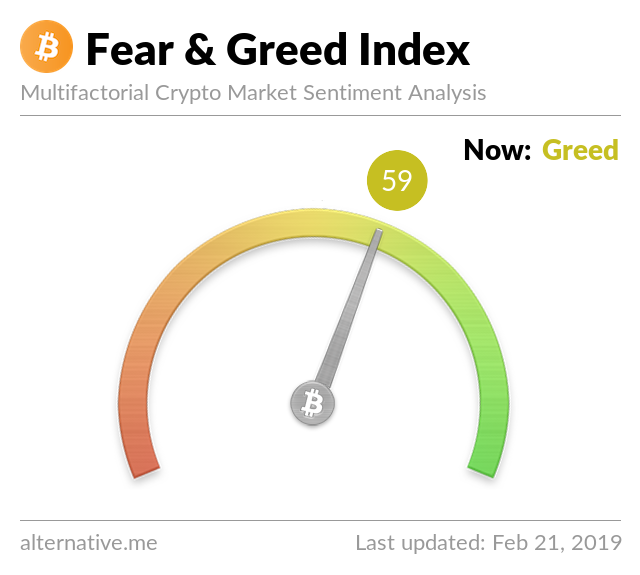 Wall Street, on the other hand, continues to rise as bond markets have seen significant drops. Despite predictions of a collapse in the capital markets, key indices keep on climbing in the face of the declining Bitcoin price. Google also hasn't seen a change in the number of searches for such phrases as "Buy Bitcoin," "Buy Ethereum," or "Ripple." Though there has been some volatility, there's been no significant change in the trend.
In other recent news, Block.one, the company behind EOS, was fined $24 million by the SEC. While that sounds like a significant fine, it is not such a big deal relative to the $4.1 billion raised by the project. Will the weak punishment encourage more projects to take risks, or will we see more cases like Kik in which authorities identify such projects as securities?
Changes involving exchanges and announcements of cryptocurrencies delisted on Bittrex and Binance show that the market is being cleaned out to some degree. On the other hand, new currencies continue to be listed, so the market's multi-currency problem persists.
In summary, we had a week of declines with fears of a trend reversal. Most analysts are now predicting a downward trend, which shows how much market sentiment has changed. However, if we revisit the technical analysis from the prior week, most experts actually predicted growth. Therefore, it can be concluded that the market does not follow predictions and behaves unexpectedly. Also, the market is awaiting various regulatory developments which will largely dictate some of its next moves.
Market Data
Market Cap: $222.8B
24-Hour Volume: $57.5M
BTC Dominance: 67.6%
BTC:
$8,388
ETH:
$180
XRP:
$0.25
BTC Shorts (BFX): 8.7K BTC
BTC Longs (BFX): 25.3K BTC
Bakkt Nightmare: Bitcoin Plunges by More Than $1,500 to $8,000. Shortly after Bakkt's trading platform launched, Bitcoin's price fell by more than $1,000 in less than an hour. This was the lowest price of Bitcoin since June 11th. The altcoin market also suffered, as almost all mid- and large-cap altcoins traded in the red.
Bitcoin Selloff Might Lead to Altcoin Season: Twitter Analyst. According to a popular analyst, a sharp selloff in Bitcoin could trigger the next "altcoin season". His reasoning is that holders of Bitcoin might see the bearish trend as the beginning of the next altcoin bull run and reallocate their holdings accordingly.
Dead Altcoins: Overwhelming Number of Crypto Projects Without a Single New Line of Code in 2019. According to a recent report which examined over 2,000 ICOs, over 640 of them haven't added or written a single line of code so far in 2019. Despite all of this, their current combined market cap is more than $415 million.
Bitcoin-Powered RSK Acquires Social Network Taringa. The blockchain-based project of IOV Labs, RSK, has acquired social media Taringa which has upwards of 17 million registered users and more than 70 million monthly visitors. The stated goal of the partnership is to streamline the mass adoption of cryptocurrencies and blockchain-based products and leverage the vast user base of Taringa.
John McAfee: Bitcoin Price to Reach $50K in the Mid-Term and $1 Million by End of 2020. Despite the severe selloff of Bitcoin, legendary entrepreneur John McAfee remains as bullish as ever. He supports Peter Brandt in his prediction that Bitcoin's price will drop to $5,500 before reaching a new ATH of $50,000 and maintains his earlier prediction that Bitcoin will hit $1 million by the end of 2020.
Bitcoin Hash Rate Recovers, Returns to 90 EH/s. A few days ago, Bitcoin's hash rate dropped significantly, only to recover a day later. Interestingly enough, a lot of analysts associated the drop in Bitcoin's price with the drop in its hashrate, as the two changes happened almost simultaneously. In any case, Bitcoin's hashrate is back to normal now, and the network appears as secure as ever.
Bittrex Announces New Trading Platform Based in Liechtenstein. The popular cryptocurrency trading platform Bittrex has announced a new platform to be headquartered in Liechtenstein. Bittrex Global should be rolled out at the end of October, and Liechtenstein was reportedly selected in light of its regulatory clarity toward digital currencies and blockchain technology.
Charts
This week we've analyzed the Bitcoin, Ethereum, XRP, EOS, and DOGE markets – click here for the full price analysis.
Be the first to know about our price analysis, crypto news and trading tips: Follow us on Telegram or subscribe to our weekly newsletter.
Source: cryptopotato.com
View original post