Altcoin News
EOS & XLM Prices See Strongest Rebound, Ethereum Price, Litecoin up 6%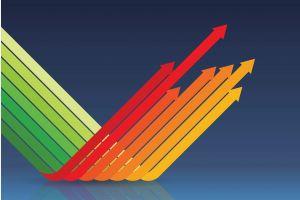 After bitcoin fell below USD 8,000 yesterday, with altcoins following it, there seems to be a rebound today – led by EOS and Stellar's XLM.
After the number one currency by market capitalisation plunged to the USD 8,000 level earlier this week, it went further down yesterday, taking the total market capitalisation down by 5%, while other coins on the top 10 list dropped by 3%-7.5%.
We see a somewhat greener picture today. Just yesterday, we've seen XLM taking the lead among the top 10 coins, being the only one with a double-digit rise, and its reign continues today, even if with a smaller number and even if that spot is shared with another coin. Comparing the prices of the top 10 coins to the lowest prices after yesterday's crash, we see EOS appreciating 7.7% and Stellar 7% (06:40 UTC).
However, the prices are still lower compared to 24 hours ago.
Top 10 coins by market capitalization: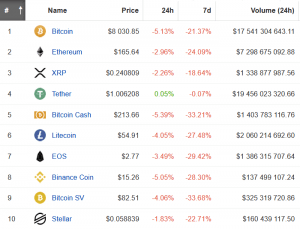 ETH and LTC are right behind the two winners, though, standing together on the second spot with a 6% rise each. Furthermore, while BSV, BNB, BCH, and XRP saw a rise of 3% each, BTC appreciated 2%.
Observing the 1-day and 7-day charts for each of these coins, a rebound with usual fluctuations can clearly be seen for each of these coins, making a smaller jump after the crash, and now seems to be on a gradual rise, though whether it'll stay on that path is hard to predict.
Meanwhile, we had already seen XRP dropping to its December 2017 levels and ETH erasing all its gains with the crash earlier this week.
"The truth is that markets like to test highs and lows within trading ranges. The cacophony of buying and selling during the adoption of a new asset looks exactly like what we're seeing playing out with Bitcoin. So it could be years before we see price movements normalize and become less volatile," George McDonaugh, CEO and Co-Founder of KR1 plc, the London listed cryptocurrency and blockchain investment company, said.
According to him, if people zoom in on everyday ups and downs and then look to external reasons for those movements, they're missing the bigger picture.
"Zoom out, understand how adoption cycles work, ignore the news and hold. We expect Bitcoin to test and surpass the all-time high it set in 2017, if not this year, very possibly in the first half of 2020," McDonaugh said in an emailed comment to Cryptonews.com.
Also, as after every crypto shower, the Cryptoverse takes notice of the improvement in prices, though seemingly unable to predict how they'll move in the near future.
#Bitcoin Cash #BCH jumps 1.86% in one hour. #Litecoin #LTC jumps 1.11% in one hour. #EOS #EOS jumps 1.24% in one hour.

— Ben Fischer (@BoersenMedien) September 27, 2019
But just because there might be a small relief that the prices are moving upwards, people do remember that they have done so already just this week before dropping again, and many are not optimistic about the upcoming days in the Cryptoworld.
I believe alts are bottoming. Scoop up whatever you've been wanting to scoop up. If this long term total crypto marketcap trend breaks, there's a lot of air underneath, so set stops. Even $XRP and $XLM may be putting in bottom formations. Or the greatest crash in history looms.

— GT (@GoodTexture) September 27, 2019
I don't see this as a reversal. I think we can see a more further downside. pic.twitter.com/EGBdViqjXX

— Adrian Wijaya (@AdrianWijaya) September 27, 2019
Not the altszn that we wanted, but the altszn that we deserve. pic.twitter.com/n2YoUqPnIe

— Su Zhu 🦁 (@zhusu) September 27, 2019
Source: cryptonews.com
View original post