Altcoin News
XRP Price Drops to the Level Last Seen in December 2017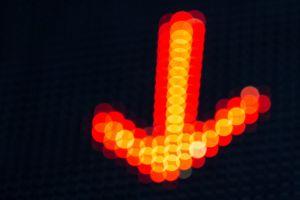 Another victim of the abrupt drop that painted the market red is Ripple's XRP, which reverted to the levels seen all the way back at the end of 2017.
While ether, the second largest token by market capitalization, certainly suffered this week, the third largest coin, XRP, is not doing any better. It has seen almost a 12% drop in the last 24 hours (11:09 UTC) and more than 22% in the last week. That brought it to the current price of below USD 0.24. The last time we've seen it this low was in December 2017.
XRP price chart: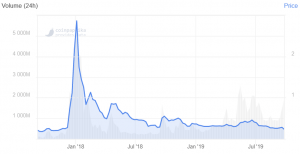 Moving to a closer period of time though, XRP's price exactly a year ago was USD 0.52, and though it had been rising and falling since, it hasn't reached that number again so far and is down by 47%.
Looking at the levels in the last quarter alone, what we notice is actually a gradual drop all the way till the short-lived September rally. In the last week, like many altcoins, XRP appreciated on September 17th, rising by 24% to USD 0.31 on September 18th, before starting to drop to its current levels. But observing the week leading up to the rally, the price was quite stable, with the usual fluctuations, moving between USD 0.25 and USD 0.26.
It is also interesting to note that XRP was among seven of the top 10 coins that saw its trading volume increase in September during the rally, compared to the August values.
Like we've seen with the reactions to the ETH drop, the opinions on XRP's next move are also quite divided, but in general – nobody seems to be particularly worried. The ardent supporters insist that the levels are guaranteed to be higher again. Many of them believe that, a drop or not, Ripple will continue to expand and improve its product, boosting the native token's price. Some blame the institutional involvement and are calling for people to hodl, and others believe this lowest price of the year is the perfect shopping time. Others, though, are not that optimistic, expecting a further drop.
Meanwhile, the past month was somewhat mixed for XRP in terms of news:
_____
A few more reactions to the recent price drop coming out of the Cryptoverse:
$XRP update:

A heartfelt sorry from me to the XRP community. pic.twitter.com/6LT9HrGvoP

— DonAlt (@CryptoDonAlt) September 24, 2019
__
First got #XRP in 2017 at .26 and it fell to .20 then climbed to all time high…you haven't lost anything unless you're panic selling.

— Yeshua Taylor (@TaylorYeshua) September 24, 2019
__
But then the ecosystem would also stop growing.

— LumpyNews.Com (@LumpyNewsCom) September 24, 2019
Source: cryptonews.com
View original post