Bitcoin News
Bitcoin Hit USD 13K, Dominance Climbs Almost 20% in a Month (UPDATED)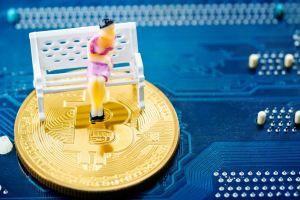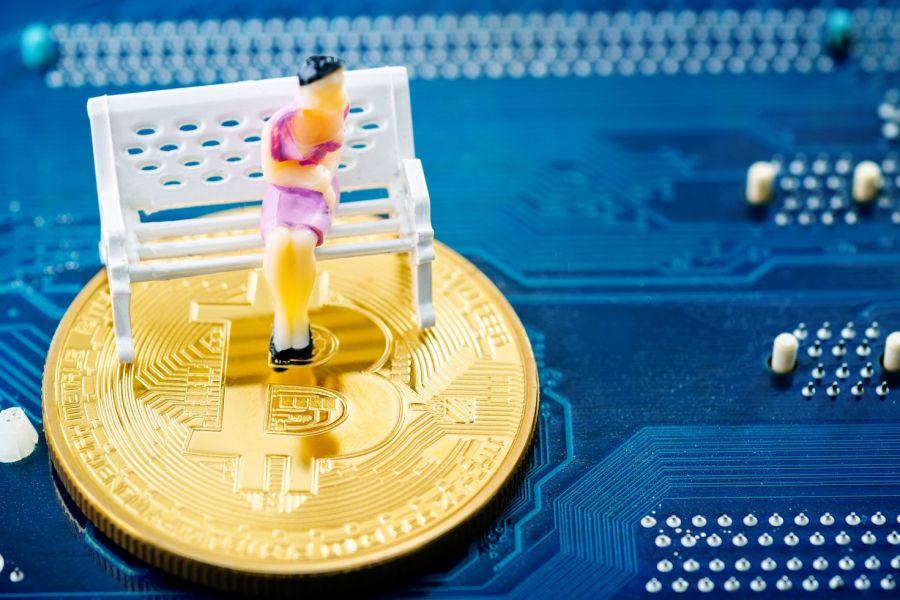 Bitcoin dominance surpassed 65% today, or the level last seen in April 2017, as the price of the most popular cryptocurrency hit USD 13,000 for the third time this year. (Updated on 10:58 UTC: a new section – "Buying appetite and waiting for altseason" – has been added at the end of the article.)
At pixel time (06:17 UTC), bitcoin trades at c. USD 12,993 and is up by 2% in the past 24 hours, by 14% in the past week and by 70% in the past month. It also almost doubled in value, compared to July 10 of 2018. Earlier today, the average price of bitcoin reached USD 13,065.
Meanwhile, bitcoin dominance, or the percentage of the total market capitalization, is 10 percentage points, or 18%, higher than a month ago.
Bitcoin dominance chart: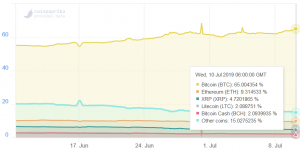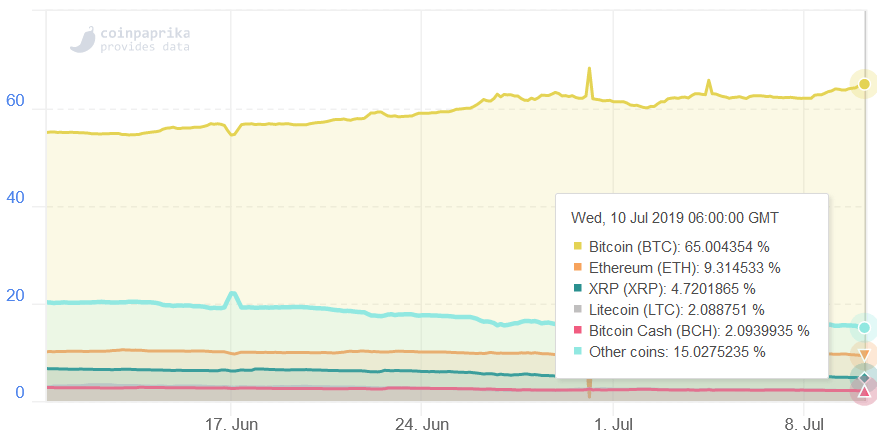 The total market capitalization increased by 1% in the past 24 hours and stands at USD 356 billion, as majority of altcoins from the top 100 coins are in red today.
____________________________
Watch the latest reports by Block TV.
____________________________
Other coins from the top 10 by market capitalization are down up to 5% today. While smaller capitalization coins, such as egretia and ren jumped by more than 33%.
_____
Money flow into bitcoin in the past 24 hours (in USD):
Tether: 4.16 billion
USD: 1.16 billion
EUR: 191 million
JPY: 231 million
CNY: 234 million
KRW: 64 million
GBP: 72 million
Source: Coinlib, (06:20 UTC)
_____
___
Meanwhile, as reported, bitcoin bulls are now pushing a new narrative and have started to discuss bitcoin at USD 100,000 more actively. Moreover, as reported, Bitcoin got its first 'A' rating this week.
Highlight: "By the end of 2021, we'll see [bitcoin] eclipse a $100,000," says @APompliano. Says $20,000 is the next… https://t.co/2M9MpUo9Of
Buying appetite and waiting for altseason
"The market clearly has a buying appetite at the moment. Yesterday morning, a large sell order of BTC 7,800 was filled in a matter of moments," Mati Greenspan, a senior market analyst at the eToro trading platform, wrote in his daily newsletter.
According to him, a fresh high would be taken by the market as a confirmation that momentum is starting to build up again and could "certainly create more FOMO [fear of missing out] as we trek toward the all-time high."
However, "the number one question" – when altcoin season? – remains.
"In my mind, however, it's not really possible to predict a phenomenon like this in advance. Rather, we can only identify it when it happens. At the moment, bitcoin is clearly leading the charge," Greenspan said, adding that the crypto market is still very highly correlated, but those correlations do seem to be breaking down lately.
"One of the main factors cryptotraders have been pointing to lately is the speculation that large industrial players are about to enter the market. So we need to keep in mind that this is a bitcoin specific narrative and doesn't necessarily apply to many altcoins. With that, we also have more and more industry veterans coming out in strong support of bitcoin over the [altcoins]," the senior market analyst said.
Source: cryptonews.com
View original post