Bitcoin News
Best of Crypto Volatility: '80% Correction' or 'New Parabola'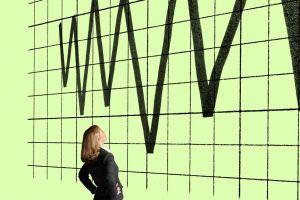 As the crypto market is showing positive signs again an the entire cryptoverse tries to guess on bitcoin's next move, legendary trader and technical analyst Peter Brandt shared his view that reminds how volatile this market can be.
In a tweet on Sunday, the analyst said that he sees two possible outcomes for bitcoin price in the near-term. According to Brandt, the number one cryptocurrency could either go into "an 80% correction" or a "new parabola," referencing the parabolic uptrend has already taken bitcoin from around USD 3,200 to a high of almost USD 14,000 this year.
If current parabolic phase is violated, we could expect either an 80% correction of 7-month advance or much smaller correction w/ definition of new parabola w/ shallower slope. $BTC Note formation of possible 2-wk H&S or H&S failure pic.twitter.com/6IF1bHREAv

— Peter Brandt (@PeterLBrandt) July 7, 2019
Brandt also pointed out the formation of a possible inverse head-and-shoulder pattern in the bitcoin chart, which could lead to even more bullishness for bitcoin. However, bitcoin's price has so far failed to follow through with a complete pattern, making it less useful as a predictor for future moves.
In technical analysis, head-and-shoulder is a classic chart pattern that indicates reversal from an uptrend to a downtrend. When the pattern is inversed (upside down), it suggests a move to an uptrend, and that higher prices will follow.
Also, in addition to his call for bitcoin's next move, Brandt caused controversy within the cryptoverse after saying that volatility is a serious problem for "cryptomaniacs" and their "mass adoption narrative."
"What fantasy world would adopt an asset as a store-of-value, transactional medium & measure of safety with such wild swings," Brandt asked.
As pointed out by bitcoin newsletter editor Marty Bent, however, volatility is just what should be expected for a brand-new asset class like cryptocurrencies. To think otherwise is "stupid," he noted.
To think that there won't be any volatility as the world attempts to accurately price a brand new monetary good (th… https://t.co/1lQLMhqfNd
Others have also joined the discussion:
Great points

— Peter Brandt (@PeterLBrandt) July 7, 2019
Meanwhile, as investors are still questioning how to predict such a volatile currency, the answer to forecasting bitcoin price may lie in artificial intelligence. At pixel time (10:31 UTC), bitcoin is up by 5% in the past 24 hours and by more than 7% in the past week.
Source: cryptonews.com
View original post