Bitcoin News
Crypto Volatility Jumps as Market Crash Coincides with Coinbase Outage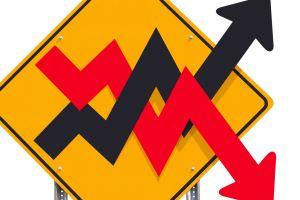 Bitcoin (BTC) once again showed its volatility that coincided with an outage that lasted just under an hour at exchange platform Coinbase . (Updated on 13:21 UTC: updates throughout the entire text.)
BTC had been soaring at prices of over USD 13,800 on June 26 when an outage of Coinbase's website and API appears to have occurred at about 8:45pm UTC. At the time, Coinbase's website bore the message: "An error has occurred. We've been notified about the issue and are taking a look." The message has since been removed.
The exchange's status log shows that the site has been experiencing difficulties in the past few days, claiming that a Cloudflare issue may have caused the site to go down on June 24 – with "downgraded performance" also blighting the network on June 25.
And while Coinbase claims that all issues have now been "resolved," with "all systems operational" by 9:38pm UTC, bitcoin and altcoins are still struggling to recover what has been lost.
Earlier today, bitcoin even dropped to almost USD 11,500 before recovering somewhat.
At pixel time (13:11 UTC), the most popular cryptocurrency trades at c. USD 11,800 and is down by 8% in the past 24 hours, trimming its weekly gains to 27%.
Bitcoin price chart:

Meanwhile, when the market crash happened, BitMEX figures show that some USD 250 million worth of BTC trades took place in just five minutes after the price drop.
_________________________________
Watch the latest reports by Block TV.
_________________________________
It has also been a bad day so far for most non-BTC tokens, that are crashing both against BTC and USD. Ethereum, binance coin and cardano dropped by around 10% against USD, while other major coins from the top 10 by market capitalization registered even larger losses.
"In fact, it was not Coinbase that caused the crash but rather the opposite. The running theory is that its website buckled under the weight of traffic caused by the sudden price drop. Trading app Robinhood also reportedly halted bitcoin trading around the same time," Mati Greenspan, Senior Market Analyst at the eToro trading platform, said, adding that Bitfinex was down as well during this time for scheduled maintenance, which could have contributed to the fall.
"The platform handles a lot of orders so no doubt the market was missing the liquidity," he said, stressing that we're now seeing record high trading volumes across the board. "It seems the crypto market got a bit too hot yesterday and is now cooling down. What an incredible market where the price can crash about 15% in less than an hour and bring us back to the highs of the previous trading day."
Bitcoin volatility index in June (blue line) and price change (orange line):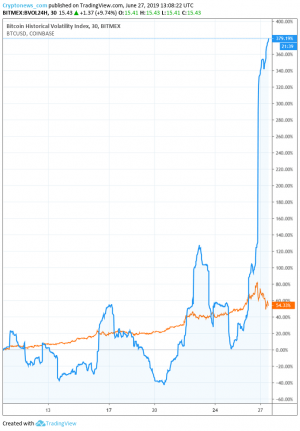 According to the analyst, the key psychological level of USD 10,000 has also not been tested as a support and "if we do continue up from here it would be pretty crazy and certainly would be a testament to the fact that we might actually be in for a much larger bull run."
"I sold a little bit yesterday. I wish I sold a lot," says @Novogratz. "I think we put a tradable top yesterday. It was parabolic. It was a frenzy." #BTC #Bitcoin pic.twitter.com/KGZwr4W9AM

— Squawk Box (@SquawkCNBC) June 27, 2019
Meanwhile, according to Robert Sluymer, technical strategist at Fundstrat Global Advisors, "a 20%-30% pullback would not be surprising and very consistent with Bitcoin's recent bull-market pullbacks," Bloomberg reported. Also, Richard Ross, head of technical analysis at Evercore ISI, who attributed the recent gains to dovish signals from global central banks, told Bloomberg that if Bitcoin could break through its current resistance level at USD 14,100, its next resistance is around USD 17,400.
Source: cryptonews.com
View original post