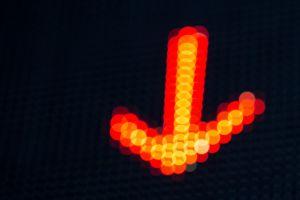 The market is not looking good for altcoins, including major tokens like ether (ETH), litecoin (LTC), XRP, and bitcoin cash (BCH). That's the reality when measuring the returns of these coins in terms of bitcoin.
Out of the top 100 coins by market capitalization, only seven are in green in the past 24 hours (qtum and egretia increased against bitcoin the most – 16% and 14% respectively.) Also, in the past seven days, only 12 coins are in green and egretia leads here again (+77%).
Meanwhile, among major coins, over the past seven days, ETH, XRP, and BCH are all down by roughly 10%, 20%, and 13% relative to bitcoin. For LTC, which is often referred to as "the silver to bitcoin's gold," the situation is even worse with a relative decline of nearly 29%.
Top coins against BTC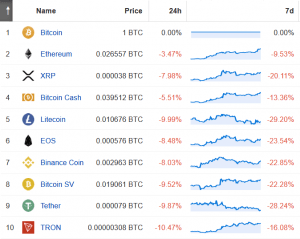 ____
Top coins against USD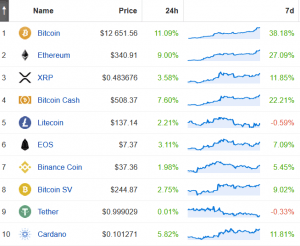 ____
Ether against USD and BTC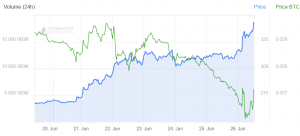 __________________________
Watch the latest reports by Block TV.
__________________________
It is well-known that coins often tend to move up in fiat terms whenever bitcoin goes up. However, with bitcoin being the de-facto "reserve currency" and benchmark among cryptocurrencies, altcoins should be measured against BTC rather than against USD, EUR, or any other fiat currency, some of the traders argue.
This is why we must watch ETH/BTC instead of ETH/USD. ETH/BTC looks like shit. Case closed.

— YORK780 (@YORK780) June 26, 2019
With bitcoin currently in a parabolic uptrend, some community members are warning against what might happen to altcoins once the bitcoin rally fizzles out.
$XMRBTC vs $ETHBTC. $XMR just smashed through the low. Honestly I do not think $ETHBTC is looking very healthy. No one is expecting capitulation in alt/usd. I am preparing for the worst pic.twitter.com/OXPrPGqAt6

— Don ⚡ Cryptoleone (@Cryptoleone) June 26, 2019
Another analogy brought up by some market participants is that of the stock market, where investors are generally rewarded during bull markets for investing in companies that are deemed to be riskier and more volatile. In theory, the same should also hold true in the crypto market, where bitcoin is considered the least risky and altcoins carry more risk.
For now, only time will tell whether altcoin holders will soon have their day in the spotlight.
Btc is sucking up everything in its path for now, but we are patient, what's good for btc is definitely good for us.

— CZ Binance (@cz_binance) June 26, 2019
Source: cryptonews.com
View original post