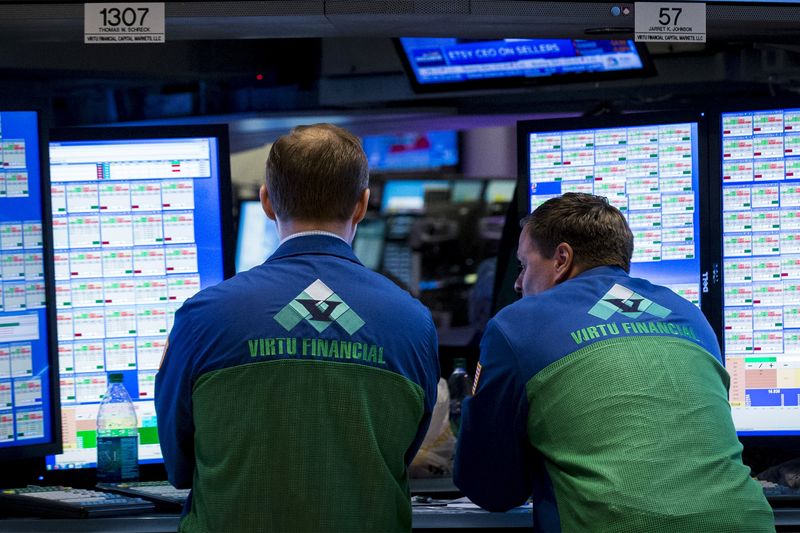 © Reuters.
Investing.com – Here are the top five things you need to know in financial markets on Monday, June 24:
1. Oil rises as U.S. prepares more sanctions on Iran
as U.S.-Iran tensions remained in sharp focus. U.S. Secretary of State Mike Pompeo warned that "significant" sanctions would be announced on Monday and said he would seek to build a "global coalition" to deal with Iran as he meets for talks with Saudi Arabia and the United Arab Emirates.
Last week, President Donald Trump said he called off a military strike in response to Iran's shooting down an unmanned U.S. drone. The escalation of tensions sent West Texas Intermediate oil up around 10% on the week.
gained 38 cents, or 0.7%, to $57.81 by 5:35 AM ET (9:35 GMT), although was unchanged at $64.45. Data released by the on Friday showed that the balance of long speculative positions on crude rose for the first time in eight weeks last week, suggesting that the selling pressure from speculative accounts is easing. Meanwhile, the number of drilling rigs in use in the U.S. remained steady, according to data from
Read more: – Barani Krishnan
2. China confirms talks with Trump at G20
Beijing confirmed that President Xi Jinping would travel to Japan on June 27-29 amid expectations that he will meet meet with Trump on the sidelines of a G20 summit that will be dominated by the trade dispute between the world's two largest economies.
Chinese Vice Commerce Minister Wang Shouwen said Monday that trade negotiations were underway and insisted that both sides should make compromises.
Although Wang provided no specific details, Assistant Foreign Minister Zhang Jun indicated that negotiators were making preparations for a meeting between Xi and Trump.
3. Global stocks mixed as markets weigh U.S.-Iran tensions against trade hopes
Global stocks were mixed to start off the week as the standoff between the U.S. and Iran was weighed against hopes that Washington and Beijing may move closer to a trade understanding at the weekend.
Wall Street was on track to recoup Friday's losses with U.S. futures pointing to a higher open. gained 51 points, or 0.2%, by 5:37 AM ET (9:37 GMT), rose 7 points, or 0.2%, while traded up 24 points, or 0.3%.
Elsewhere, as a profit-warning from Daimler (DE:) and yet another drop in German , to its , dampened spirits.
Asian shares ended slightly higher, supported by hopes for some type of progress in Sino-U.S. trade talks.
4. Bitcoin pulls back from 15-month high above $11,000
A two-week rally in managed to briefly push the largest cryptocurrency by market capitalization over the weekend,
The digital coin has gained 40% in the space of two months, a frenzied run that has been likened to the craze that pushed it to all-time highs near $20,000 back in 2017.
Some analysts credited Facebook's (NASDAQ:) planned launch of the digital coin Libra as reviving interest in cryptocurrencies, pushing Bitcoin to a 15-month high, even though Libra is conceived as an asset backed by fiat currencies.
The pivot by global central banks toward easier monetary policy may also have contributed to the rally, by reducing the returns on fiat currencies. The bitcoin rally has coincided with a rally in gold, which also prospers when world growth and interest rates fall. tested a new five-year high overnight and were at $1410.45 dollars a troy ounce by 5:35 AM.
5. Turkish assets jump as Erdogan concedes defeat in Istanbul election
The Turkish , and all after the ruling party led by President Tayyip Erdogan conceded defeat by the opposition in a rerun of elections for Istanbul's mayor.
The government's concession eased concerns that it might use its power to stifle the democratic process, providing relief for Turkish assets which have fallen this year under strain from the government's unorthodox efforts to keep a looming balance of payments problem.
Even as the political tension cools off, investors will continue to keep a close eye on the dispute between Ankara and Washington over Turkey's proposed purchase of Russian S-400 defense systems. The U.S. has warned that the delivery expected next month would trigger economic sanctions.
Erdogan and Trump are expected to meet at the G20 summit to discuss the issue.
— Reuters contributed to this report.
Source: investing.com
View original post