On Wednesday, the Federal Reserve's Jerome Powell was asked about his latest thoughts on Bitcoin (BTC), crypto assets, and Libra. True to his nature as an integral figurehead of fiat money, the chairman of one of the world's most powerful institutions didn't fear.
As reported by Blockonomi, Powell claimed that cryptocurrencies, even the Silicon Valley-backed Libra, aren't big enough to pose a threat to Wall Street… yet. Put best, it is a "long way from digital currencies impacting monetary policy."
Despite what he may be projecting, a number of cryptocurrency bulls have, with a recent Federal Reserve press conference in mind, come to the conclusion that Bitcoin may pose a threat to traditional finance sooner than Powell may expect.
Federal Reserve Not Cutting Rates
On Thursday, global stocks hit fresh all-time highs. Microsoft, for instance, surpassed a $1 trillion market capitalization — joining an exclusive club of massive corporations. More broadly, the S&P 500 gained nearly 1%, nearing the ever-auspicious 3,000 level. The reason why this occurred was due to a recent Federal Reserve policy meeting and subsequent press conference, during which Powell & Co. made a surprising announcement.
For those who missed the memo, late last year, the American central bank seemingly began to hint that it was intending to "unwind" its balance sheet, which many believe have catalyzed this decade-long, record-breaking rally in global equities. By doing this, it would need to liquidate assets and increase interest rates, negative price catalysts which, theoretically, the market would have to absorb. Due to this, the stock market tanked (as did BTC).
But, six months later, this rate hike doesn't seem to be coming to markets near you. During yesterday's press conference, the Federal Reserve signaled that it intended to cut interest rates. Other central banks seemingly followed suit.
Bitcoin Ready to Boom Due to Dovish Fed
So, what does this have to do with Bitcoin?
Well, first off, a low-interest rate environment should (and has) push investors to allocate capital towards riskier assets, be it Bitcoin or the countless Silicon Valley IPOs or private placements that have taken place over the past decade. More importantly, however, Bitcoin is seen as a way out of the bureaucracy and unpredictability of traditional finance. You see, many see extreme periods of low-interest rates as a perfect catalyst for currency debasement.
Travis Kling, a Wall Street investor turned showrunner at a crypto fund, has claimed that the inflationary strategy being used by the Federal Reserve, known as "Quantitative Easing", is one of the most irresponsible and largest "monetary policy experiments in human history". Case in point, the Federal Reserve's balance sheet is bigger than ever. Just look at the graph below shows the extent to which this "experiment" has got to.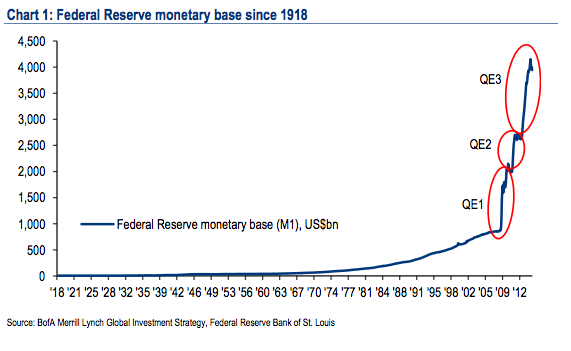 This recent decision by the Federal Reserve is only validation that inflationary strategies will continue for the foreseeable future. Brendan Bernstein, a Bitcoin commentator and anti-establishment figure, claims that this recent implication that interest rates are to be lowered yet again begins "an arms races of central banks competing to devalue their currencies."
And so it begins…

An arms race of central banks around the world competing to devalue their currencies

Fiat will leak into scarce assets. And the scarcest asset in the world will disproportionately benefit.

It's like they're conspiring to pump BTC

Thank you for your service https://t.co/mcoo2pVGBE

— Brendan Bernstein (@BMBernstein) June 20, 2019
Unlike traditional monies, BTC is not susceptible to warrantless, hidden inflation and is not controlled by a central authority. So, if (or when) the economy collapses due to a mishap on the part of central bankers, many, including Kling, are sure that cryptocurrencies, especially something like Bitcoin, will see a massive capital inflow. Or as Bernstein puts it:
"Fiat will leak into scarce assets. And the scarcest asset in the world will disproportionately benefit. It's like they're conspiring to pump BTC. Thank you for your service."
---
eToro Risk Warning: 66% of retail investor accounts lose money when trading CFDs with this provider. You should consider whether you can afford to take the high risk of losing your money.
---
Source: blockonomi.com
View original post