Cryptocurrency News
Where Are They Now? Binance IEOs ONE, MATIC, CELR And FET Far From Highs: Price Overview & Forecast
Over the past few months, Binance Initial Exchange Offerings (IEOs) have shown similarities to the ICO markets of 2017, posting some interesting price action around launch, as well as weeks after. ONE, MATIC, CELR, FET and BTT have all been referenced fairly frequently in the trading department of crypto Twitter. These assets seem to have cooled off in the price category, at least for now, based on their daily candle charts.
Harmony (ONE)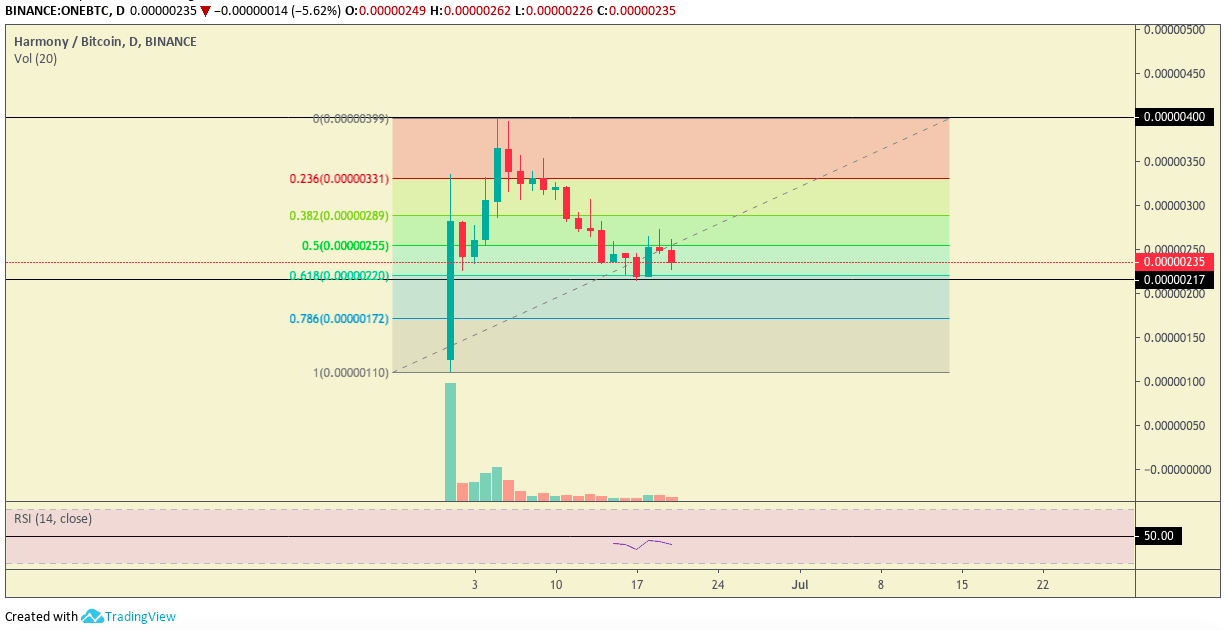 Binance hosted the ONE IEO not too long ago, so there is not much price data available yet. At present, ONE looks to have bounced off the popular 0.618 Fibonacci (Fib) level as support at 217 Satoshi. Following said bounce, however, the asset appears to have faced a bit of resistance at the 0.5 Fib level.
Based on the small amount of data used, the relative strength index (RSI) lies just under the 50 mark. The volume also understandably has declined, with initial hype having dissipated a bit after the IEO launch. The chart shows roughly 400 Sats as the all-time price high for ONE.
Matic Network (MATIC)
MATIC IEO shows slightly more data than ONE, but still not enough data to draw much analysis from various moving averages and the like. Interestingly, MATIC looks very similar to ONE in its bounce off the 0.618 Fib level. MATIC seems to have faced resistance between the 0.382 Fib level, and the 0.5 Fib level at a price of around 344 Sats. At present, the asset's price lies around the 0.618 Fib level.
MATIC also is below the 20-days moving average (MA) line, with noticeably less volume than the time surrounding its drive to all-time prices, around 574 Sats. Additionally, the RSI sits right below the 50 mark.
Celer Network (CELR)
In contrast ONE and MATIC IEO launch pumps, CELR appears to have 'died' after its launch. The asset shows a continuous fall, down to its most recent bottom around the 112 Sat range.
Resistance appears to hold around 330 Sats, around where previous support once held. At press time, the asset currently is below the MA-20, with RSI also below 50. Trading volume posted heightened levels when the asset retested previous support around 330, but the asset was unable to close above that range.
Fetch (FET)
FET IEO shows similar price action to CELR with regards to a post-IEO launch dump. The asset fell from around 14,032 Sats, down to a recent bottom in the range of 1,404 Sats. The trend looks like it could be amid an attempted reversal.
Based on the recent price bottom, FET looks to have bounced off the 0.786 Fib range, facing resistance at the 0.382 Fib level. At press time, price is back at the 0.786 Fib level.
Price is below the 20 MA, with RSI below 50. Volume, however, is consistently higher in general than volume levels shown around FET's price history beginnings shown on TradingView.
Based on their charts, all four of these assets look to be down considerably from their price highs. MATIC, CELR, and FET are all below their MA-20, and all four assets analyzed are below 50 on the RSI.
*This article is based on the author's opinions, speculations, and conclusions.
Be the first to know about our price analysis, crypto news and trading tips: Follow us on Telegram or subscribe to our weekly newsletter.
---
CryptoPotato Video Channel
---
Source: cryptopotato.com
View original post