Cryptocurrency News
WaykiChain Stablecoin WUSD: Dark Horse Being Visible to Tether, Maker or the Others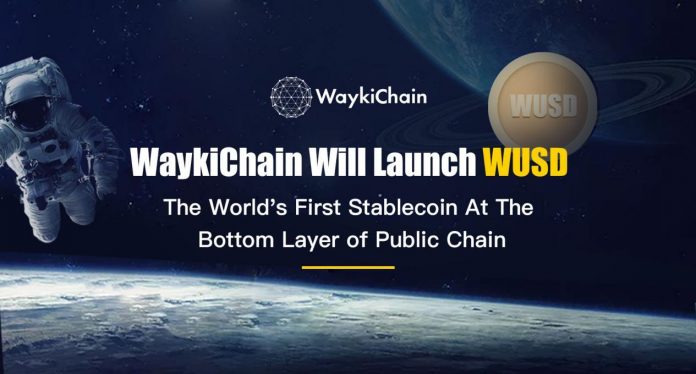 Coins like Bitcoin and Ethereum are highly volatile. On any given day, it is common to see an increase to 10% -20% or even a decrease. That makes using most cryptocurrencies for daily transactions inconvenient. Imagine paying $5 for your soybean latte today and finding out tomorrow that it should have been $4. Price changes like that are shocking for a consumer. The adoption of stablecoins will be a catalyst to the new decentralized internet becoming mainstream.
Four Traits Necessary for an Optimal Stablecoin
An optimal stablecoin should have the following four traits: price stability, scalability, privacy and decentralization. Additional traits that will assist the wider adoption of any stablecoin are simplicity along with elegance of concept, easy integration points for partners, and ability for an decentralized exchange to work with.There are three main categories of stablecoins: Here we are going through one by one.
Defects of Mainstream Stablecoin
Likely the most well known stablecoin is Tether. It's been in operation for the last few years and boasts a large market capitalization of over $2.7 billion.Tether achieves it's price stability in a very intuitive way — Direct pegging 1:1 with the US dollar in theory. However, Tether does have its detractors. There has been a lot of speculation around the legitimacy of Tethers USD holdings due to the lack of transparency since they have not made public any audited reports supporting the funds they have in "reserve".
As for the Rising Star: Maker, its stability of the system is obtained by means of smart contracts. According to the Maker model, users do not purchase Dai, rather they create it in exchange for Ethereum. Price stability is maintained by the system automatically auctioning its Ethereum to maintain the price.This coin is not backed by fiat currency, which is a criticism of many of the stable coins and seen as a positive move forward to a fully decentralized and autonomous stable coin. Another case to this, it has been proved highly complex and slow-moving.
Terra pegs their price to $1 USD, and it is also endorsed by the South Korean government. However, Because the south Korean government does not allow other countries to conduct digital currency transactions in South Korea, the policy makes it impossible for global users to open bank accounts in South Korea, so no one can actually buy any cryptocurrencies from other markets to trade in South Korea.
Stable coins offer the most critical component for widespread cryptocurrency adoption — Price Stability. However, this market is still in its infancy and although there are a lot of promising projects underway, it still haven't been done to identify a clear winner. The market is calling for a new trend.
Dark Horse Being Visible
As an low-key high performance project constructed by a programmable technology infrastructure, we are here to fight a way out, by adopting our integral ecosystem supported WaykiChain stablecoin. WaykiChain WUSD is pledged by WICC which lower the barrier for smart contracts development, optimize the project operation and business operation. An optimal cryptocurrency should have the following four traits: price stability, scalability, privacy and decentralization. Additional traits that will assist the users out of blockchain industry ringer on an easier way to the system. That will give users the confidence in making daily transactions.
We hope the full adoption of WUSD will alleviate the worry of your purchase with the volatility of coins like Ethereum and Bitcoin. For unveiling its mysterious veil, Please stay tuned.
How to access:
Twitter: https://twitter.com/wayki_chain

Telegram: https://t.me/wiccofficial
Website: https://www.waykichain.com/
Marketing team: [email protected]
BD team: [email protected]

CEO Twitter:@GordonGao11
Disclosure: This is a sponsored press release
Source: nulltx.com
View original post