Cryptocurrency News
Arax Cryptocurrency Wallet and COSS.io Announce World's First Token Merger, and Create a Crypto One Stop Solution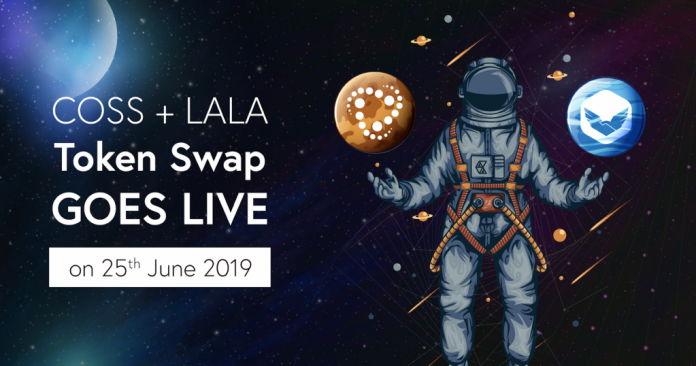 June 2019, SINGAPORE –  Arax, a fintech and blockchain startup in Singapore has merged with COSS, one of Singapore's most established cryptocurrency exchanges. The unified brand will be known as COSS – Crypto One Stop Solution. The merger also results in what is the world's first token merger – a merger of the COSS and LALA utility tokens – to form a super-token which will be an asset combining all the features of its parent tokens.
In the COSS + LALA token swap update, the companies announced that they will adopt the Crypto One Stop Solution brand with the vision that the merged product stack becomes one of the largest digital asset ecosystems to take shape worldwide. Users will be able to trade, store, transact and spend their digital assets from a single platform with a single ID – making mass adoption of digital assets a reality. The merger also brings together the experience and resources of both companies to become a fast-growing Asian fintech startup with offices in Singapore and India.
Sankalp Shangari, Group CEO of COSS and Founder of Arax, shares his thoughts on the adoption of digital assets:
"This is history in the making and we are proud to be building one of the largest Digital Asset Ecosystems. One vision, simple focus – crypto adaptability for the masses. No one can deny that modern digital assets have immense value as they go mainstream and as corporate behemoths begin to participate actively in the industry. While their utility in a person's day-to-day life has been a challenge, with previous experience and an abundant network, we are on absolutely the right track and a great growth trajectory."
COSS believe that its token currently surpasses all existing exchange tokens in the market, in terms of potential utility, and that the merger will add significantly to that utility, adding Increased blockchain support. Arax offers multi-digital asset storage and utility product which supports several blockchains, a feature-set larger than other existing digital asset wallets today. Users remain in full control of their private keys while being able to send, receive and spend digital assets on day-to-day utilities like global mobile top-ups supported in 160+ countries, access instant digital asset exchange, make GPS-based transfers among a host of other ready-to-launch services.
Launched in mid-2017, COSS has a vision to become one of the finest digital assets platforms – a one-stop for all things cryptocurrency. The platform currently has a  feature stack to support a secure smart contract enabled e-wallet management system, support 5 stablecoins, an infrastructure to support ICO launches, fiat payment gateway for international currencies, listing over 90+ listed digital assets and providing a unique Fee Split Allocation feature (FSA). FSA lets token holders receive 50% of all trading fees generated by the exchange, distributed through a DAO (Decentralised Autonomous Organisation); a true use of blockchain while serving stakeholder needs first. The company is also readying to launch its IEO platform in the coming weeks. COSS is a member of the Singapore Fintech Association and Ethereum Enterprise Alliance.
Mr. Shangari continues:
"We have created a platform – a currently live platform – which allows users to do more with their crypto assets. They are used to storing it on one platform, trading it on another and sending it to yet another for every way they wish to spend it. That is not required anymore! And we are not stopping there… we continue to build features for the future."
Singapore is known for its global reputation as one of the most important fintech ecosystems. The government has and continues to support innovation while developing a modern regulatory environment. This has led to the launch and growth of hundreds of financial technology startups developing products supported by the latest technologies. This merger sees two strong members of the Singapore fintech ecosystem coming together to become a versatile digital asset platform in the rapidly expanding industry.
The new COS token combines the utility of what were previously two separate tokens, with their own set of features, into one super-token powering one ecosystem — the Crypto One Stop Solution ecosystem.
The new COS tokens will have the following existing as well as additional utilities going forward:
Fee Split Allocation (FSA) — all COS token holders receive a 50% split of the total trading fees COSS collects on a daily basis, based on their holdings.
Trading Fee Discounts — traders can pay trading fees on COSS.io using the COS token to get a discount on the usual trading fee.
COSS Wallet features, utilities, promotions, and discounts — you will be able to utilize your COS and other balances on the COSS Wallet app to make GPS-based transfers, mobile credit top-ups, earn reward points and access a host of other features which are being built into it.
All COSS and LALA tokens will be swapped for the new COS token only on COSS.io exchange. The swap commences on 25th June 2019 at 14:00 GMT+8.
The swap ratios are:
COSS:COS = 1:1
LALA:COS = 10:1
Token Swap Details:
The swap will be done ONLY on COSS.io exchange
COSS and LALA tokens from other exchanges and external wallets MUST be deposited to COSS.io to swap the tokens to COS
Trading on COSS and LALA pairs will be halted on 24th June 2019. The platform  will announce, in advance, the time when trading will halt and all open orders canceled
Withdrawals of COSS and LALA tokens will be disabled on 24th June 2019. The time will be announced. Deposits will remain unaffected.
FSA will be disabled from 25th June 14:00 GMT+8 to 01st July 2019, 14:00 GMT+8
COSS and LALA tokens in FSA wallets will be converted to COS tokens during the week commencing 1st of July, 2019
The swap will continue on COSS.io for at least 3 months from 25th June 2019. COSS will l announce if any further extensions to this window are to be made.
Rune Evensen, Co-Founder and Chief Product & Strategy Officer of COSS, shares more about the announcement from Singapore:
"The vision from day one with COSS was to build a true ONE STOP SOLUTION. Not to necessarily build everything in-house but to bring it all together. This merger is a huge step towards reaching that goal but it doesn't stop there. Our roadmap is long and we are continuously looking to partner with more and more providers that wish to offer its products and services through our Ecosystem. It is all about building a sustainable ecosystem with the users in focus."
The token swap to merge the COSS and LALA tokens begins on 25th June 2019 on COSS.io.
Learn more about COSS at – https://www.coss.io/
Read about COSS on Medium: https://medium.com/@coss.io
Visit the COSS exchange at – https://exchange.coss.io/
Join the COSS Telegram group – t.me/myCOSS
Follow COSS on Twitter: https://twitter.com/cosscrypto
Find COSS on Facebook: https://www.facebook.com/cosscrypto
Meet the COSS team on LinkedIn: https://www.linkedin.com/company/cosscrypto/
COSS on Reddit: https://www.reddit.com/r/CossIO/
Media Contact
Contact Name: Satyarth Mishra
Contact Email: [email protected]
Contact LinkedIn: https://www.linkedin.com/in/satyarthmishra/
Location: Singapore
COSS.io is the source of this content. Virtual currency is not legal tender, is not backed by the government, and accounts and value balances are not subject to consumer protections. This press release is for informational purposes only. The information does not constitute investment advice or an offer to invest.
Disclosure: This is a sponsored press release
Source: nulltx.com
View original post