Altcoin News
Coinbase and Circle Opened Doors to New USDC Issuers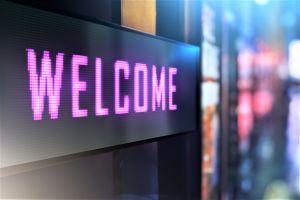 News came out of Centre Consortium today, the joint venture of crypto giants Circle and Coinbase – the stablecoin network is now open for industry participation and broader membership.
As a reminder, in October 2018, Circle and Coinbase partnered up and formed the Consortium, but also launched their first stablecoin, the US Dollar Coin (USDC). Since its establishment, the Consortium has been working "to formalize and establish the Centre Network: a membership-based framework and governance scheme for the development and growth of money on the internet", they state.
Today, they've made another step towards that goal as institutions can become members of the Network and get the right to issue or redeem USDC. Reserve assets are allotted to Centre Issuers in accordance with the their investment policy, and they can generate returns on these assets. But revenue can also be generated if business build financial products and services that utilize Centre stablecoins, the Consortium says.
However, the announcement makes clear that the members must first agree to Centre's operating rules and an issuer settlement and liability framework, as well as meet these criteria:
Be licensed and regulated to support electronic money services; possess a license that authorizes the provision of financial services in the jurisdiction(s) they operate in;
Meet the regulatory requirements of the jurisdiction(s) in which the company is licensed; meet the United States rules and international principles; satisfy regular third party audits to show that the requirements are followed;
Meet the technical and operational requirements of the Centre protocols;
Be satisfactory to Centre's reserve financial institution partners and compliant with Centre's Investment Policy, which establishes the guidelines for the safe and appropriate management of assets that back Centre stablecoins;
Be satisfactory to Centre's financial accountant and able to meet the review and attestation requirements for reserve accounting.
Speaking about the future, Centre plans to enable coins to function across multiple chains (public and private), introduce new currencies into the network, and build a global currency token basket with "a structure chosen by Centre but based on a GDP and Balance of Trade informed allocation." They "expect Bitcoin to also be a reserve currency asset in such a basket token."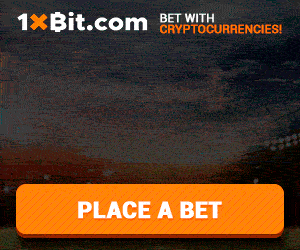 Meanwhile, Centre also says that USDC "has decisively become the top financially transparent stablecoin among regulated issuers in the world", citing some of its accomplishments, like:
Over USD 795 million of USDC issued and over USD 470 million redeemed.
Over USD 11.9 billion traded on more than 40 exhanges around the world.
Over USD 11.1 billion in on-chain transfers completed using USDC.
Just a month ago, the attempts to use the Tether drama and shill USDC have backfired after CEO of Coinbase, Brian Armstrong, tweeted: "With the confirmation that Tether is not fully collateralized, my hope is that the industry graduates to more trustworthy stablecoins, including [USDC]."
____
Stablecoins by market capitalization: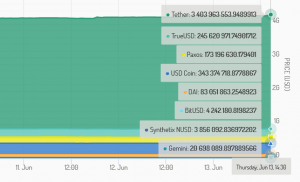 ____
Watch the latest reports by Block TV.
Stablecoins by trading volume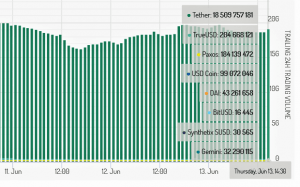 Source: cryptonews.com
View original post