For some reason or another, crypto assets and blockchain technologies have struck a chord with gamers — video gamers. As EOS VC's Brian Mehler told me in an interview earlier this year, "gamers have always been very forward thinking and very easy to adopt new technologies… So there's also an overlap between those that were heavy gamers and those that are building blockchains."
As a result, we've seen gaming companies begin to eye blockchain, looking into how the technology can benefit their business and bolster the user experience of their platforms and games.
Ubisoft Looks to Integrate Blockchain
According to a recent report French business outlet Les Echos, Ubisoft, a video game developer behind Rainbow Six, Far Cry, Just Dance, and other classics, has had a "dedicated team" for blockchain applications in gaming for a number of months. Citing sources familiar, Les Echos states that the Ubisoft-backed consortium is on the verge of launching its first blockchain use case. In fact, an insider source said that the venture is at an "advanced stage".
The idea is purportedly looking to make items, like digital cosmetics or weapons, accessible through a blockchain system. No specific titles were mentioned, but it's presumed that the Ubisoft team intends to facilitate cross-game item transfers.
Ubisoft purportedly has plans to use the Ethereum blockchain for this program. It is unclear if the network could handle Ubisoft's user base, however, potentially implying that the company is looking to build a second-layer solution to make its integration work.
The Value of Blockchain-Enabled Gaming
Mehler, the aforementioned EOS VC executive, has told me that putting gaming items onto a blockchain is an entirely logical play:
"I played games growing up and loved it. But, I would get disenfranchised with a game when a new iteration would come out, as all the work I'd done the previous game would be locked in that version. Whether it be that chart, my armor, or my potion list, I was very upset that I didn't get to take it over to the next game. So with blockchain, everyone is going to get a second wind of gaming because things that you have digitally really are yours. That ownership is really exciting."
Phil Chen, the head of HTC's crypto division would agree. As hinted at in previous Blockonomi reports, Chen believes there is currently a massive issue with the Internet, in that no really owns their personal data and private keys. Put best:
"When you don't own your crypto assets or data or identity, there is something fundamentally wrong about that. If there's a sovereign identity that is you — things that you've created, attributes or characteristics that describe you —  that you don't own, there's something entirely wrong, especially because we are this far into the information age, and there's no concept of digital property — what is yours, what is mine."
With the integration of blockchain into gaming, users are able to finally own their digital items and procure much more value from them.
Ethereum Sees Array of Positive Development
If this news is true, Ubisoft will be the latest in a string of mainstream technology giants and financial institutions that have become enamored with Ethereum, which is now maturing at a rapid pace. The image seen below is the members of the Enterprise Ethereum Alliance, which represent a majority of the institutions involved in developing on the chain. Taking a brief glance, you can see massive names, worth billions apiece: BP, Credit Suisse, CME Group, Intel, JP Morgan, Microsoft, and Reuters to name a few.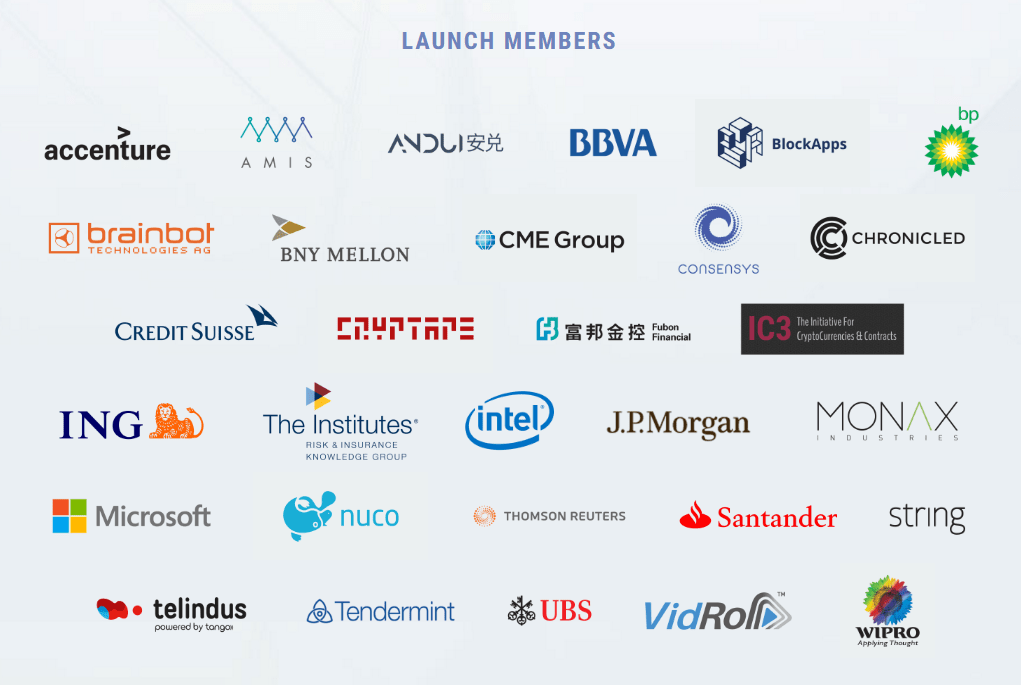 Outside of this alliance, you also have Samsung, the South Korean technology powerhouse, looking to build with the Ethereum chain.
The odd thing is, Ether has been underperforming Bitcoin.
---
Virtual currencies are highly volatile. Your capital is at risk
---
Source: blockonomi.com
View original post