Bitcoin News
Analysts Advise Against Buying Bitcoin at Current Dip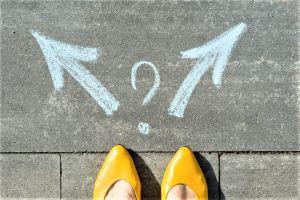 You might want to think twice before you decide to buy bitcoin now before it jumps back up again, according to multiple analysts and traders. There are quite a few theories and suggestions going around in the cryptoworld in regards to what your next bitcoin move might be. What we would expect is to see quite a few analysts advising investors and traders to buy each dip when many believe that the coin is in a steady uptrend, but it would seem that this time the analysts are withholding their support for such a move.
After reaching the coveted USD 9,000 in the bullish rally in May, the price dropped below USD 8,000 this week, at the moment of writing (14:46 UTC) standing at around USD 7,770.
Bitcoin price chart in 2019:

In the pas week, bitcoin price has went down by almost 11%, but looking at the entire month, Bitcoin went up 34%. Also, looking at the past seven days, the absolute majority of the coins on the first 100 list are in the red. Among the first 10 coins by market capitalization, all but Bitcoin SV have seen a drop in the past week.
The market seems relatively stable at the moment, though, of course, we can't ever predict what the next turn of the events will be. It is evident that, while some seem to suggest buying, many advises against it at the moment. With all the attention bitcoin is getting due to the above-9,000 surge, it is likely that more hype might be created, causing more spikes, all of which could still be unsustainable, and short-term, according to Mati Greenspan, Senior Market Analyst at the eToro trading platform.
"What we want is sustainable value creation, not short-term momentum-driven surges," Greenspan wrote in his daily market update today.
Also, the market's sentiment towards bitcoin has dropped recently, according to Omenics, a crypto market sentiment analysis service: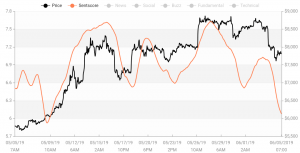 Numerous analysts are advising against buying the coin, fearing that, while relatively stable at this current price, it might actually continue going downwards from now on.
Watch the latest reports by Block TV.
Professional career trader Peter Brandt, for example, tweeted just two days ago that a "Doji top" on Bitcoin's weekly chart indicating a correction, shows that the rally has ended for now. Similarly, cryptocurrency analyst Cantering Clark tweeted that, he "strongly disagree[s] with anyone that is under the impression that this dip is currently one worthy of purchase" since, given the lowering levels of buying pressure and momentum itself, it's more likely that there will be a further downside.
Furthermore, the popular trader, known on Twitter as CryptoTutor in today's tweet notes the current correction, comparing it with the previous corrections in a bull market, stating that "the average retrace takes around 18-20 days and a 36%-37% retrace move from high to low." It is -18% to the low on day 6, so it will take more than 20% to reach the average.
We're at the point in the market where you should trade what you see and not what you feel. Don't get stuck in the successive bull moves from past months. Corrections happen, don't mex your stack away by over leveraging

— CryptoTutor (@CryptoTutor) June 5, 2019
Trader and analyst Luke Martin, aka VentureCoinist, warns that it's important to keep things in perspective and not overact, excessively worrying that bitcoin is crashing, while others, like Crypto Quantamental, advise calm and not to obsess over predicting each spike and dip, but to just "find out where the finish line is and wait there. Ignore the twists and turns".
🐢

— Luke Martin (@VentureCoinist) June 4, 2019
Meanwhile, bitcoin analyst Oliver Isaacs told The Independet today that he still believes that bitcoin has the potential to hit USD 25,000 by the end of 2019 or early 2020.
He points at the usual drivers that have been listed by many bitcoin bulls previously. It includes adoption, technological and regulatory improvements, and geopolitical issues, such as the trade war between the U.S. and China, which might increase demand for bitcoin further.
Source: cryptonews.com
View original post