Cryptocurrency News
This Search Engine Will Pay You To Switch From Google: Presearch (PRE) Founder Talks About His Tough Mission
Presearch, with its PRE token, has been in the crypto space since the last bull run of 2017. The token is down significantly from all-time highs, similar to many crypto assets, although Presearch continues to push forward in their development.
The project touts itself as a decentralized search engine which rewards users in PRE tokens, Presearch Founder Colin Pape told CryptoPotato in a recent interview. "We are building an alternative to Google essentially," he said. Over the last year, Presearch has amassed more than one million users, the founder explained.
Presearch started up between summer and autumn of 2017, Pape mentioned. This means that the project had to weather the bear market of 2018. "We had generated some significant revenue, but it was held mainly in cryptocurrency," he said. The team "probably should have felt […] really this kind of, you know, a prosperous moment" Pape noted, although, they instead had to react to the declining market.
The team, however, continued to push forward, developing through the market conditions, Pape explained. "It really didn't phase us, and certainly we continued development and then went after user acquisition," he said, adding, "We've been successful with that, with more than a million users."
At current, the project is looking toward further development, with "a new mobile app coming out shortly," Pape said. The project has plans in the area of "internationalization" in Q3 of 2019, and is "getting ready to release a new ad platform," Pape noted in the May 14 interview, stating the development should be ready around the end of May.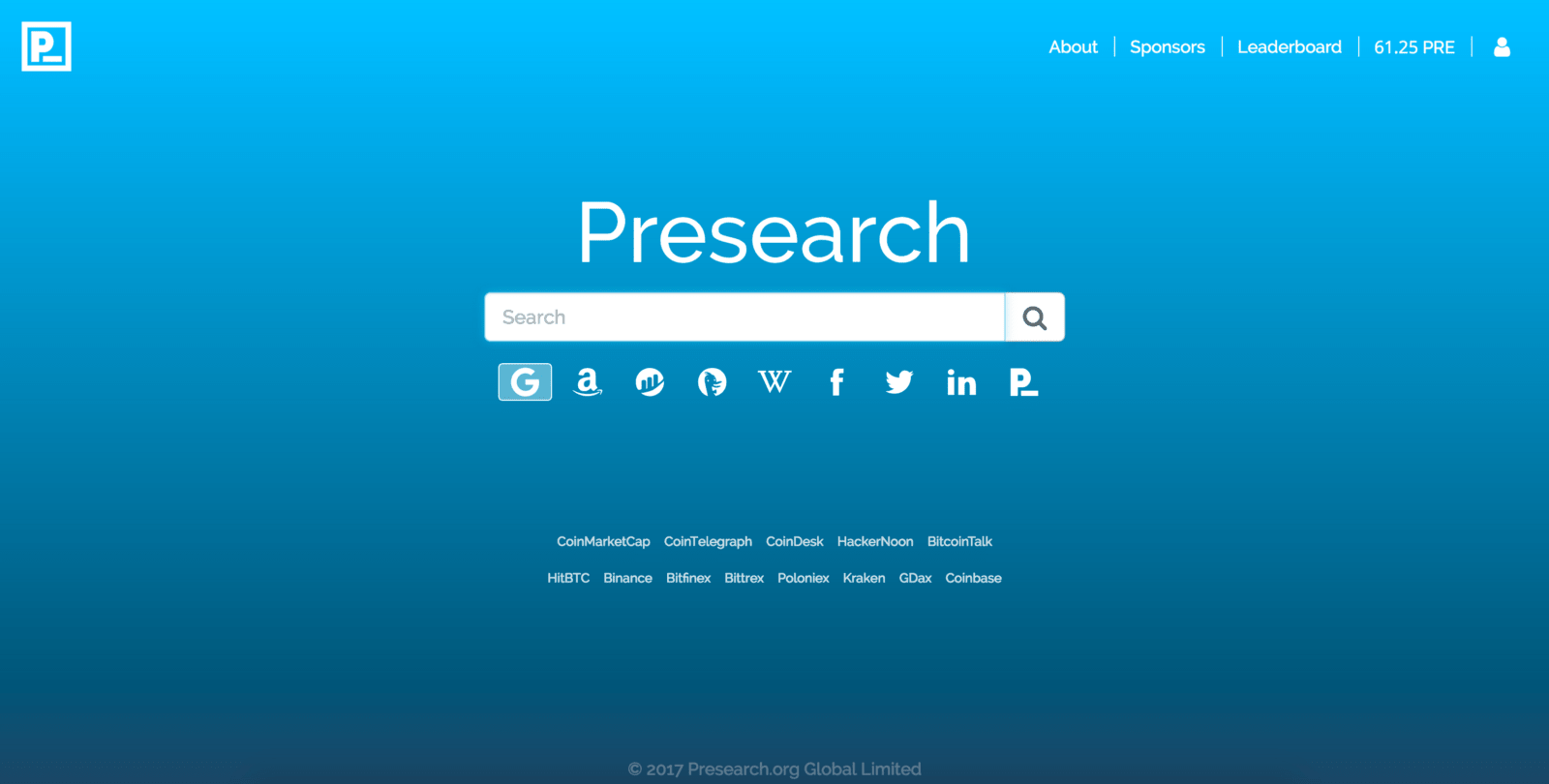 The Concept Of Paying Users
Alluring in theory, the concept of paying users in PRE tokens to use the Presearch search engine poses a question about the origin of such funds, as the funding for such activity must have a source.
Pape explained:
"Users are rewarded with PRE tokens when they search. It's really kind of the incentive to switch from Google, who has almost 90% market share. It's a pretty significant challenge, but we found that token rewards are instrumental in getting people to shift over to a different service, and ultimately, those rewards are actually paid for by sponsors."
The Presearch founder added that those sponsors mostly have the "opportunity for sponsors to get a message to users," based on users' searches. This eliminates the need to collect personal data, Pape described. "That's the beauty of search – you don't need actually to collect any personal information. Demographics are not necessary." As of the May 14 interview, however, those funds are "coming out of the rewards pool," Pape added.
Google And Brave Browser
In the web browsers category, Google has 88.47% of the global search engine market share, as of April 2019. Bing comes in at just under 5%, and Yahoo is at slightly over 3%.
According to Pape's quotes, Presearch is on the hunt to bring users from top contender Google, over to Presearch. Overtaking Google is quite the undertaking at the moment, looking at the numbers, although Presearch is comparatively young and stately touts a more decentralized approach.
In the crypto world, the Brave browser, in affiliation with Basic Attention Token (BAT), has become quite common as a web surfing alternative. Time will tell if Presearch will gain similar popularity in crypto and public circles, although Pape did note that Presearch has over one million users.
Be the first to know about our price analysis, crypto news and trading tips: Follow us on Telegram or subscribe to our weekly newsletter.
---
CryptoPotato Video Channel
---
Source: cryptopotato.com
View original post