ICO News
Close to 80% of ICOs Are Scams – But They Get Less Money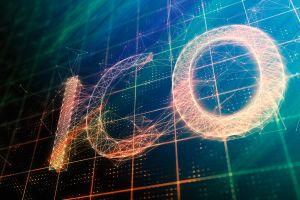 A new study found that initial coin offerings (ICOs) are most often employed by those trying to make quick gains and disappear underground. A total of 78% of ICOs in 2017 were "identified scams," the study found, and only around 15% went on to trade on exchanges.
ICO advisory firm Satis Group, who recently published the study, found that the remaining percentage had either gone dead or failed.
Listed Coins/Tokens (in $M USD), $50M+ Market Cap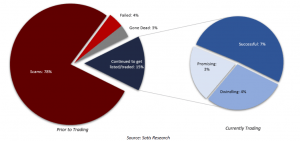 The difference is that those that failed is that their teams abandoned the process and/or refunded investors as a result of insufficient funding, and those that had gone dead are not listed on any exchanges and has not had a code contribution in Github in the past three months.
Absolute Number of ICO's, Grades by Market Cap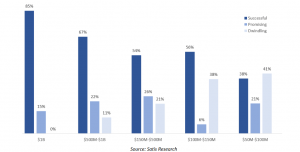 Interestingly, scams seem to raise less money than legitimate ICOs. Out of a total of around USD 12 billion raised till now, around 11% (USD 1.3 billion) went to identified scams. That number becomes smaller when large scams are excluded, so that in the end, identified scams got away with USD 30 million in fundraising (or around 0.3% of all time ICO fundraising).
The study also surmises that this may be due to the fact that the community is good at discovering scams and adding them to lists. The majority of money raised by now, around 54%, has gone to successful ICOs (those with tokens listed on exchanges that meet success criteria).
Funding of Listed Coins/Tokens (in $M USD), $50M+ Market Cap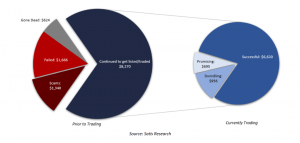 Source: cryptonews.com
View original post