Bitcoin News
Bitcoin Outpaced by Altcoins in Significant Upsurge
There was another upward move in bitcoin price above USD 8,300, but it failed to hold gains and corrected towards USD 8,000. BTC/USD is currently (08:10 UTC) consolidating and it could once again pop towards the USD 8,300 level. More importantly, there were sharp gains in many altcoins, including ethereum, litecoin, stellar, NEO, XEM, XVG, EOS, BCH, ripple, GNT and ETC. ETH/USD jumped more than 20% and broke the USD 250 and USD 265 resistance levels. Ripple price traded close to the USD 0.485 level and it is currently consolidating near USD 0.450.
Total market capitalization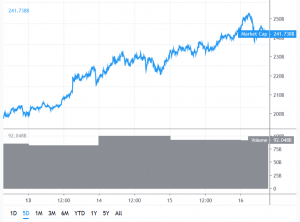 Bitcoin price
There was a fresh increase in bitcoin price from the USD 7,680 support area. BTC/USD climbed above USD 8,100 and USD 8,200. BTC/USD even broke USD 8,300 and traded to a new 2019 high. However, the bulls failed to capitalize, resulting in fresh downside correction.
The price declined below USD 8,200 and it is currently trading in a range just above the USD 8,000 support. On the downside, the main supports are USD 7,880 and USD 7,680. On the upside, a clear break above the USD 8,150 level is needed for a push towards USD 8,300 and USD 8,400.
Ethereum price
Ethereum price performed well and it recently broke the USD 240 and USD 250 resistance levels. ETH/USD gained more than 20% in the past three sessions and broke the USD 265 resistance.
The price tested the USD 270 – USD 272 area and it is currently correcting lower. An immediate support is at USD 260, below which the price may perhaps test the USD 250 support.
Bitcoin cash, eos and ripple price
Bitcoin cash price jumped after it broke the main USD 400 resistance level. BCH/USD surged above the USD 420 and USD 430 resistance levels. The upward move was such that the price even spiked above the USD 450 level and traded as high as USD 455. The price is currently correcting lower and it could test the USD 400 support.
EOS climbed higher sharply above the USD 6.25 and USD 6.50 resistance levels. The price even broke USD 6.75 and traded close to the USD 6.90 level before starting a downside correction. The main supports on the downside are USD 6.60 and USD 6.50.
Ripple price extended gains above the USD 0.425 and USD 0.450 resistance levels. XRP/USD climbed above USD 0.465 and tested the USD 0.480 level. The price is currently correcting lower and trading near the USD 0.445 and USD 0.432 support levels.
Other altcoins market today
In the past three sessions, many small cap altcoins rallied sharply and gained more than 15%, including CCCX, LA, XEM, DENT, XVG, GNT, XLM, LOOM, SAN, SC, ETC, OMG and AOA. Out of these, CCCX is up around 95% and LA gained nearly 38%.
Overall, bitcoin price seems to be consolidating in a broad range above the USD 7,680 support level. On the other hand, altcoins are gaining bullish momentum, with strong gains in ethereum, ripple, bitcoin cash, litecoin, NEO and EOS.
_____
Find the best price to buy/sell cryptocurrency: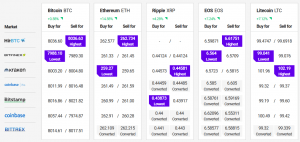 Source: cryptonews.com
View original post